'Godzilla Vs. Kong' Cast Adds 'The Nun' Actor Demián Bichir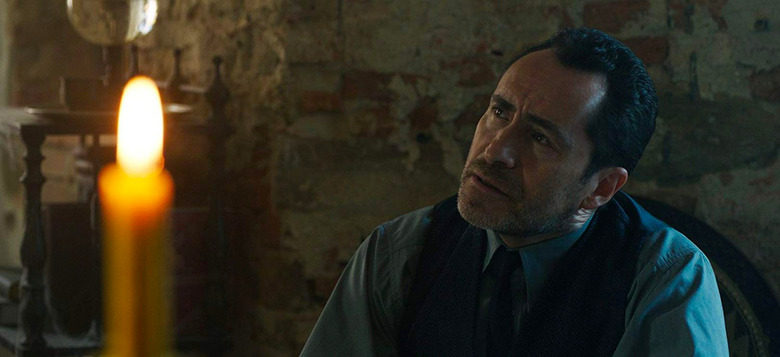 Godzilla vs. Kong, another entry in Legendary's MonsterVerse, has added yet another cast member. Demián Bichir, an actor who appeared in The Hateful Eight and the recently released The Nun, has joined the Adam Wingard-directed film. Godzilla vs. Kong follows the upcoming Godzilla: King of the Monsters, and will pit the rebooted Kong from Kong: Skull Island against the rebooted Godzilla introduced in Gareth Edwards' 2014 film. More on the Godzilla vs. Kong cast below.Collider has the news about Bichir joining the Godzilla vs. Kong cast. Millie Bobby Brown, Kyle Chandler and Zhang Ziyi, who appear in Godzilla: King of the Monsters, are all expected to be in the film as well, along with Danai Gurira Julian Dennison and Brian Tyree Henry. Collider doesn't say what character Bichir will be playing, as specific details about Godzilla vs. Kong are still under wraps. Regarding the upcoming movie, director Adam Wingard said:
"I really want you to take those characters seriously. I want you to be emotionally invested, not just in the human characters, but actually in the monsters. It's a massive monster brawl movie. There's lots of monsters going crazy on each other, but at the end of the day I want there to be an emotional drive to it. I want you to be emotionally invested in them. I think that's what's going to make it really cool."
Wingard, who directed The Guest, Death Note and more, also added:
"I do want there to be a winner. The original film was very fun, but you feel a little let down that the movie doesn't take a definitive stance. People are still debating now who won in that original movie, you know. So, I do want people to walk away from this film feeling like, Okay, there is a winner."
I haven't seen The Nun yet, so I'm not familiar with Bichir's work there. I do remember his performance from The Hateful Eight, though, and he more than held his own surrounded by a stacked cast. The rest of the potential cast here is pretty damn good as well, so Godzilla vs. Kong is shaping up nicely.
I thought Gareth Edwards' Godzilla was visually stunning, but narratively empty, and found Jordan Vogt-Roberts's Kong: Skull Island to be entertaining, but forgettable. That said, the trailer for Godzilla: King of the Monsters looks incredible. And while Wingard has had a few misfires lately – Blair Witch, the Netflix adaptation of Death Note – his previous movies prove he's a talented filmmaker. With all that in mind, I have high hopes for Godzilla vs. Kong.
Godzilla vs. Kong opens on May 22, 2020.