'Orange Is The New Black' Ending With Season 7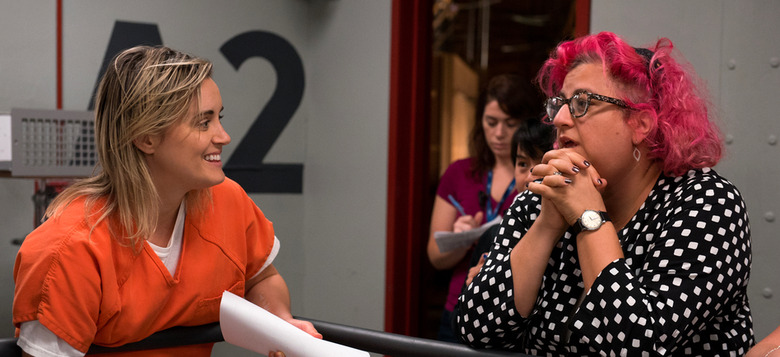 Orange is the New Black's time is nearly served. The Netflix series will end with season 7, bringing to a close a show that launched back in 2013. This is likely for the best, as the prison dramedy has run out of steam at this point. The final season will arrive on the streaming service in 2019.
It's time to say goodbye to Orange is the New Black. The long-running Netflix series will end with its approaching seventh season, as this video confirms.
Warning: This may make you cry. The Final Season, 2019. #OITNB pic.twitter.com/bUp2yY0aoK

— Orange Is the New Black (@OITNB) October 17, 2018
While fans will no doubt be sad to see the show go, the timing is right. Even hardcore followers of the series (like my wife) have said that the last two seasons have dropped off in terms of quality. The show has run its course, and it's time to let it go. Back in 2016, Netflix renewed the series from creator and executive producer Jenji Kohanfor for three seasons – seasons 5, 6 and 7 – at once.
"Jenji and her team have produced a phenomenal and impactful series that is both funny and dramatic, outrageous and heartfelt. Audiences around the world have come to love the ladies and men of Orange is the New Black, and we are eager to see where three more seasons will take them," Cindy Holland, Vice President of Original Content at Netflix, said at the time.
"Three more years! Not quite a political term, but still plenty of time to do some interesting things. In some cultures, 'May you lead an interesting life,' is a curse, but I don't live in those cultures," Kohanfor said when the renewal announcement was made. Later, when asked by the New York Times if season 7 would be the last season, Kohanfor replied: "I haven't made a final decision yet, but I'm leaning toward ending it after seven — although the nature of the show is one that can go on and on because you can bring in new people."
Now we can confirm that the series is indeed ending. Based on Piper Kerman's memoir Orange is the New Black: My Year in a Women's Prison, the Netflix series "follows Piper Chapman (Taylor Schilling), a happily engaged New Yorker who is sent to a women's federal prison for transporting a suitcase full of drug money across international borders, 10 years prior, for her girlfriend at the time, Alex Vause (Laura Prepon)."
While Schilling's character was the entry-point into the show, Orange Is the New Black introduced a diverse cast that includes Uzo Aduba, Kate Mulgrew, Laverne Cox, Dascha Polanco, Danielle Brooks, Selenis Leyva, Samira Wiley, Taryn Manning, Yael Stone, Jackie Cruz, Lea DeLaria, Adrienne C. Moore and Elizabeth Rodriguez, along with Michael Harney and Nick Sandow.
Look for the final season of Orange Is the New Black in 2019.