'Fast & Furious' Producer Neal Moritz Sues Universal Over 'Hobbs And Shaw'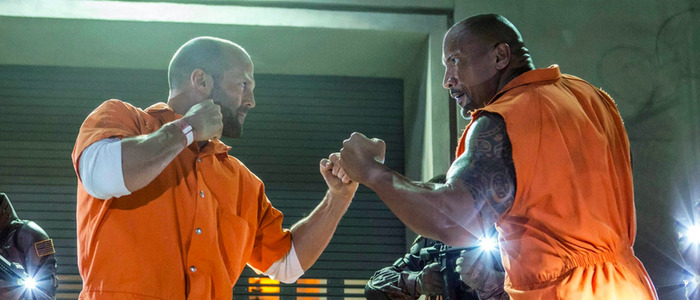 Is the upcoming Fast & Furious spin-off film quick enough to maneuver its way through a court of law and come out unscathed? We're about to find out.
A Hobbs and Shaw lawsuit has been filed against Universal Pictures by Fast & Furious franchise producer Neal Moritz, who alleges that, in "a classic example of Hollywood greed," the studio has breached a contract with him regarding the spin-off movie in order to avoid paying him the money he believes he's owed.
Fast & Furious producer Neal Moritz is feeling particularly furious right now. Moritz has produced every entry in this long-running franchise going back to the first one in 2001, but it looks like he's hit a roadblock with Hobbs and Shaw, the spin-off that stars Dwayne Johnson and Jason Statham, reprising their roles and facing off against Idris Elba as a new villain.
In court documents obtained by Deadline, Moritz alleges that Universal is breaching an oral contract he had with the studio:
"Universal took the position that Moritz either had to amend his oral producer deal to accept substantially inferior financial terms, or be cut out of the Picture altogether. Remarkably, despite Moritz having complete Pay-or-Play protection on all of his last several deals on the FF Franchise and having relied on Universal's oral promises, Universal also took the extraordinary position that it was free to exploit Moritz's ideas for Hobbs and Shaw, and his work product over an approximately year-and-a-half period, without honoring its oral producer agreement."
Translation: Universal offered Moritz a substantially smaller fee than what they previously said they were going to give him, he balked, and they kicked him off the movie. I don't want to cast full blame on any party since I'm not familiar with all of the ins and outs of this case, but just as a general rule, it seems like maybe Moritz should have gotten his deal in writing instead of relying on an oral agreement. A written contract seems like a much more ironclad way to go in this scenario...but that's easy for me to say.
The person I feel the worst for in this whole situation? Moritz's production executive Amanda Lewis, who Deadline says moved her family to London to oversee production (Universal paid for her move, but still – what a pain).
This doesn't sound like an ideal situation for any of the parties involved, especially since Universal plans to make two more Fast & Furious movies to close out the main storyline, not to mention the potential for other spin-offs and sequels beyond that. We'll have to see how this lawsuit shakes out, but it doesn't seem like it'll impact the scheduled production of Hobbs and Shaw, which is set to hit theaters on August 11, 2019.