'Annabelle 3': Patrick Wilson And Vera Farmiga Will Play The Warrens In Spinoff Sequel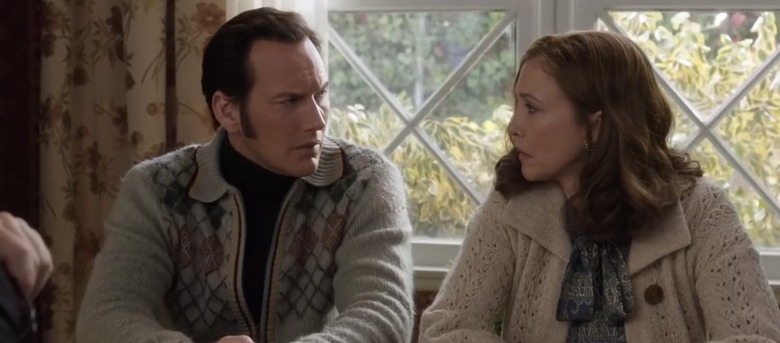 In the Conjuring universe, Patrick Wilson and Vera Farmiga play married paranormal investigators Ed and Lorraine Warren. Thus far, the pair haven't figured prominently in any of the cinematic universe's spin-off movies, appearing in The Conjuring and The Conjuring 2 and skipping out on the Annabelle franchise and the recent The Nun. But that's about to change: a new report says Wilson and Farmiga are set to reprise their roles in the upcoming Annabelle 3.
Deadline reports that Wilson and Farmiga will return to their roles as the Warrens, but for the first time, they'll now factor into one of the series' spinoff titles. The outlet says the two actors will "be in a supporting capacity" in Annabelle 3, which will mark the directorial debut of Gary Dauberman, the writer of Annabelle, Annabelle: Creation, The Nun, and last year's adaptation of Stephen King's It.Annabelle 3 begins with the titular possessed doll held in the Warrens' Artifacts Room, which is supposed to be a safe place where she can no longer wreak havoc. Of course, things don't go as planned, and Annabelle "awakens the room's evil," which targets the Warrens' ten-year-old daughter, Judy. Gifted actress McKenna Grace is playing Judy, and Jumanji: Welcome to the Jungle's Madison Iseman is playing Judy's babysitter, who also has to face off against the awakened evil forces.
Wilson and Farmiga's touching portrayal of the Warrens puts them among the best characters in any ongoing horror franchise – you get the sense that these people truly care for each other, and they're able to balance their romantic lives and their working partnership despite the horrors they so regularly encounter. It'll be cool to see them playing key roles in a movie outside of their own core franchise. And it sounds like this won't be the last we see of them, either: The Conjuring 3 is still in development, and Michael Chaves (The Curse of La Llorona) on board to take over directing duties from James Wan, who directed the first two entries in the Conjuring franchise.
Filming on Annabelle 3 (which is still technically being referred to as Untitled Annabelle Project) begins this week, and the movie is scheduled to hit theaters on July 3, 2019.