Small-Screen Stream: The Best Spooky Shows To Stream For Halloween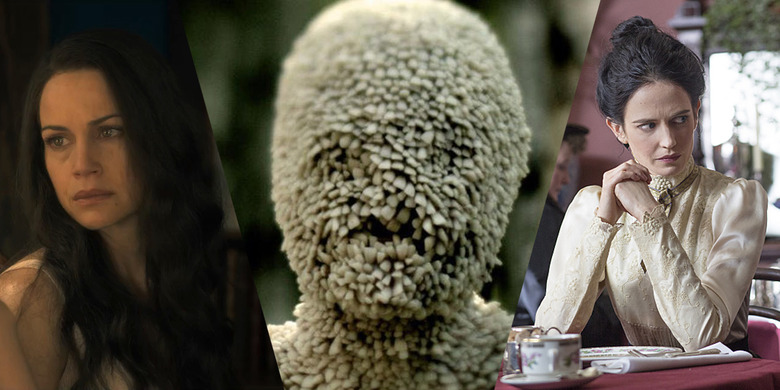 (Welcome to Small-Screen Stream, a feature where we share the best television shows streaming and where you can watch them.)
Halloween is almost here, and this is my last streaming column before it arrives, so I decided to go full horror for this one! A lot of these are shows I've talked about in the past — and some are brand new — but I wanted to put a wide lens on the genre. There's so much to stream at any given time, and some shows, even great ones, get lost in the mix. I compiled a list of everything from horror originals, to adaptations, to true crime, to baking shows. There's plenty of ways to get in the Halloween spirit, and I thought it'd be fun to go a little out-of-the-box for some of these. If you're like me and live for October and Halloween season, the following list is a great way to get in a spooky mindset.
The Haunting of Hill House, Season 1
Where To Watch: Netflix
Created By: Shirley Jackson (novel), Mike Flanagan
Starring: Michiel Huisman, Carla Gugino, Henry Thomas, Timothy Hutton
Netflix's new take on Shirley Jackson's classic novel was a tough sell. The show diverts wildly from the book, which was sure to isolate a subset of horror fans. But they shouldn't fear; even this Jackson diehard was totally won over by Hill House. The story follows the Crain family in two separate timelines: One when they lived in the titular haunted house as children, and the other when they're adults, still dealing with the trauma they faced all those years ago. The horror is great, but works best as a metaphor for the darker family problems: mental illness, grief, addiction. It's a real treat, and Mike Flanagan directs the hell out of every episode, particularly the highly impressive episode 6, which is filmed in a series of paralyzing long takes.
American Horror Story, Seasons 1-7
Where To Watch: Netflix, Hulu, Amazon Prime
Created By: Ryan Murphy, Brad Falchuk
Starring: Sarah Paulson, Evan Peters, Frances Conroy, Emma Roberts
I've featured American Horror Story on this list before, but wanted to return to it for a few reasons. One, I didn't realize it's streaming on just about every major service, so it's easily findable. And two, Cult is finally available. Cult was a divisive season, mostly because it dealt heavily with politics in the immediate aftermath of Trump's presidency. That was a turn-off for some, but hopefully it finds an audience now that it's streaming, because it's one of the show's finest, most consistent, and most terrifying seasons yet; all about the hive-minds that spring up during political duress, and the sharp divisions it causes in our society and even our families. To the point that they might literally join a killer clown cult.
Penny Dreadful, Seasons 1-3
Where To Watch: Netflix
Created By: John Logan
Starring: Eva Green, Rory Kinnear, Josh Hartnett, Reeve Carney, Timothy Dalton
Penny Dreadful is such a beloved show among genre fans that it's a no-brainer I'd suggest it for spooky streaming options. But I don't mean to undersell it; this is a truly great, criminally under-seen, beautifully produced show that was canceled far too soon but has luckily found a niche fanbase online. The series plucks characters from literary horror history — Dorian Gray, Dr. Frankenstein, Count Dracula, Dr. Jekyll and Mr. Hyde — and reorients them in Victorian England, weaving a "penny dreadful"-style narrative around them and several new characters, like Eva Green's powerful medium Vanessa Ives and Josh Harnett's American marksman Ethan Chandler. The performances are top-notch, the mood deliciously gothic, and — because it aired on Showtime — the production values really high.
Slasher, Seasons 1-2
Where To Watch: Netflix
Created By: Aaron Martin
Starring: Katie McGrath, Brandon Jay McLaren, Steve Byers, Ty Olsson
Created for the TV channel Chiller, Slasher is a Canadian-produced series with a lesser profile than some of the other things on this list, but don't let that fool you. It's a fun spin on slasher tropes that pays homage to movies like Scream and Friday the 13th, while crafting its own identity. Each season tells a different story — the first is about a serial killer called "The Executioner" who stalks a small town and the second about a group of summer camp counselors who return one summer only to be picked off by an unseen murderer — which keeps it fresh and interesting. Netflix scooped up the licensing rights, and it was recently renewed; I can't wait to see where it goes next.
Channel Zero, Seasons 1-3
Where To Watch: Shudder
Created By: Nick Antosca
Starring: Paul Scneider, Fiona Shaw, Luisa D'Oliveira, Natalie Brown
Horror TV sometimes has the reputation of not being all that scary. Well, if you want something that'll change your mind about that, don't sleep on Channel Zero. The first three seasons are streaming on horror service Shudder, and it's well worth a new subscription just to check this show out. Like many horror series, it's an anthology, and every season is based on a popular creepypasta story. I'm particular fond of Candle Cove, the first season, which follows a child psychologist as he returns to his hometown to solve his brother's disappearance, which is linked to a bizarre children's TV show called Candle Cove. It's best to go in unspoiled, but can I just say — prepare yourselves for this one.
Damien, Season 1
Where To Watch: Hulu
Created By: Glen Mazzara
Starring: Bradley James, Megalyn Echikunwoke, Omid Abtahi, Barbara Hershey
If you're a fan of The Omen, chances are you've heard of this A&E sequel series. The show was canceled after one season, and it's not hard to see why; it's a little corny, and based on a property that's grown a bit stale and already has a number of sequels. But I have a weird soft spot for the show, which has gorgeous production design and set up an interesting future for its titular Antichrist: Now a 30-year-old war photographer, he experiences flashbacks to his past horrors and must unlock the secret of his identity. It's not exactly reinventing the wheel, but at only one season, it's non-committal horror world that's fun to dip your toes in.
Dead Set, Season 1
Where To Watch: Netflix
Created By: Charlie Brooker
Starring: Jaime Winstone, Andy Nyman, Riz Ahmend, Chizzy Akudolu
Before Black Mirror, writer Charlie Brooker created this totally bizarre and completely wonderful series, which actually feels like a prolonged episode of his more-famous anthology series. Set during a fictional season of the reality TV show Big Brother, the show documents a zombie outbreak, with the show's set serving as a bunker from the outside infection. We follow the contestants in the style of Big Brother as they deal with the outbreak and try to plan an escape. It's such a brilliant original idea that it's no surprise this guy would go on to make one of the most beloved sci-fi series ever. I'd love to take a peek inside Brooker's twisted mind. (The show also stars a young Riz Ahmed, which is a lot of fun to see!)
The Walking Dead, Seasons 1-8
Where To Watch: Netflix
Created By: Frank Darabont
Starring: Andrew Lincoln, Norman Reedus, Jon Bernthal, Laurie Holden, Steven Yeun
I hesitated putting this on here, because I haven't watched the show in years and don't have much good faith in it. But then I remembered that first season, which came out on Halloween, and what an exciting time that was in horror. I revisited the pilot this week, and yeah — this thing holds up. The show may have devolved into too much story for way too long, but it's popular for a reason, and it shows why in its earliest outing. There's something indelible about Rick Grimes stumbling through a near-empty Atlanta, with no idea what's going on or what's in store for him. Even if you checked out a while ago, like me, I suggest revisiting the first season if you want a pitch-perfect chilling throwback.   
Dead Like Me, Seasons 1-2
Where To Watch: Amazon Prime
Created By: Bryan Fuller
Starring: Ellen Muth, Laura Harris, Callum Blue, Mandy Patinkin
If you want to watch something in the horror realm but don't have the stomach for big scares, Dead Like Me is a healthy alternative. It's a Bryan Fuller series, which means it's beautifully, dreamily designed. The story follows Ellen Muth's George Lass, a teenager who dies in the pilot and becomes a grim reaper, meaning she guides the souls of the soon-to-be-dead into their afterlife. That may sound dark, but Fuller is known for his whimsical spin on the macabre, and this cult series is no exception.
BuzzFeed Unsolved: True Crime, Seasons 1-4
Where To Watch: Amazon Prime
Created By: Ryan Bergara
Starring: Ryan Bergara, Shane Madej
I was unfamiliar with this show until a few days ago, when curiosity finally got the better of me. I know it's popular, and I see people post about it on social media a lot. I definitely get why; after checking out a few episodes, I learned how highly addictive it is, and what a fun spin it puts on the sort of done-to-death true crime genre. Hosts Ryan Bergara and Shane Madej The latter is a skeptic when it comes to the more conspiratorial things Bergara whips up, which creates a fun, Mulder-Scully-like dynamic. Although they investigate dark things — murders, hauntings, possessions — they keep things light enough to not feel morbidly depressed after each episode. If you like true crime without the carnage, this is the show for you.
The Curious Creations of Christine McConnell, Season 1
Where To Watch: Netflix
Starring: Christine McConnell, Colleen Smith, Michael Oosterom, Drew Massey
This isn't so much horror as it is highly fun and totally bizarre, but WOW THIS SHOW. There's really nothing quite like; it's baking show produced by Henson featuring macabre muppets and gory gags. It's basically indescribable in a coherent way if you haven't seen the trailer, which you should, right now, to get a vibe for what's going on. It's almost better left un-described and best left to be discovered. If you're into weird things, Halloween decorations and treats, and Labyrinth, I'm sure you'll love this as much as I do.