'Fantastic Beasts: The Crimes Of Grindelwald' Featurette Unveils Story Details, Online Ticket Sales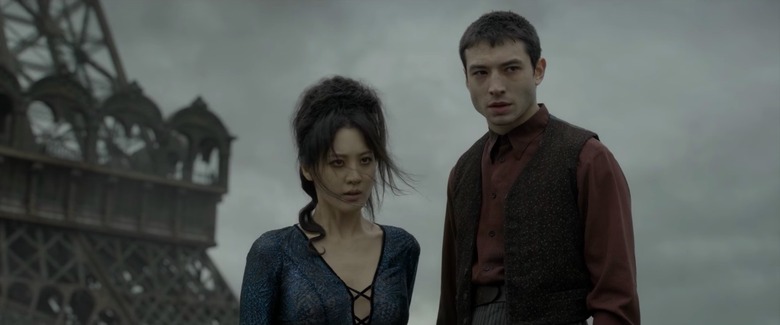 With a month left to go before Fantastic Beasts: The Crimes of Grindelwald flies into movie theaters, Warner Bros. has released a new featurette revealing more about the plot of the secretive sequel. With those new story details comes the announcement of online ticket sales for a special early screening of the latest film in the Harry Potter spin-off series.
Fantastic Beasts The Crimes of Grindewald Featurette
Though Grindelwald may be in the title of the sequel to 2016's Fantastic Beasts and Where to Find Them, it turns out that The Crimes of Grindelwald is all about Credence. Ezra Miller's character was presumed dead at the end of the first Fantastic Beasts and his involvement was kept a secret in the sequel, but now the latest featurette teases his surprising importance to the story.
In the featurette, author and Fantastic Beasts screenwriter J.K. Rowling teases that "the reason everyone goes to Paris, really, is Credence." She doesn't go into detail about why Credence is at the center of this brewing Wizarding War, but we see that Grindelwald (Johnny Depp) is fixated on bringing the Obscurial to his side, while Dumbledore (Jude Law) has tasked Newt Scamander (Eddie Redmayne) with finding Credence to thwart Grindelwald's plan.
It's all very intriguing, but that isn't the most exciting part of this featurette. This clip announces the online sale of tickets to a special Fantastic Fandom Event for early screenings of Fantastic Beasts: The Crimes of Grindelwald on November 13 — a whole three days before the film's premiere. You can buy tickets for the special early screening here.
Here is the official synopsis for Fantastic Beasts: The Crimes of Grindelwald:
In an effort to thwart Grindelwald's plans of raising pure-blood wizards to rule over all non-magical beings, Albus Dumbledore enlists his former student Newt Scamander, who agrees to help, unaware of the dangers that lie ahead. Lines are drawn as love and loyalty are tested, even among the truest friends and family, in an increasingly divided world.
Fantastic Beasts: The Crimes of Grindelwald opens in theaters on November 16, 2018.