Watch The Trailer For Adam Sandler's Netflix Comedy Special '100% Fresh'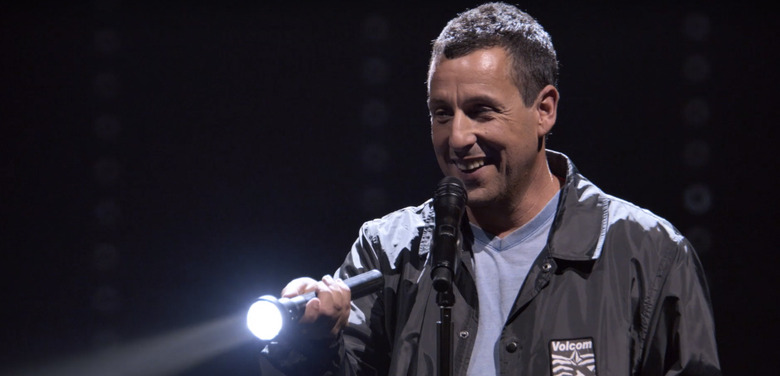 Regardless of what the critics end up saying about Adam Sandler's return to stand-up comedy with a new original special coming to Netlix, no one will be able to deny that it's 100% Fresh. That's because the special itself is called Adam Sandler: 100% Fresh, and the comedian has a bunch of new jokes and original songs that you've never heard before.
Watch the teaser for the Adam Sandler Netflix special below.
Adam Sandler Netflix Special Trailer
Unfortunately, the trailer for Adam Sandler: 100% Fresh doesn't really reveal any of the topics or even a single punchline from the stand-up special. Instead, it features Sandler introducing the idea of the special, occasionally making some of his signature goofy sounds and voices, and bringing his adorable dog out on stage while he does comedy. That feels like the kind of gimmick that makes it easier for people to laugh at your jokes, like when a comedian brings out a guitar, but Adam Sandler does that too, so that makes perfect sense.
There are quick cuts of some of the antics that will be happening off-stage, including some kind of subway performance that Adam Sandler did in New York City while filming for this special was taking place. He was caught doing this bit early this past spring, but now we'll get to see it in its full glory.
Don't forget that we heard a while back that filmmaker Paul Thomas Anderson was involved in this special. Though it was initially thought he was directing the whole thing, the Punch-Drunk Love director was only at the helm for a certain segment of the show. Presumably it will be those segments that venture off the stage, but we'll likely find that out once the special gets released.
For anyone who has fallen out of love with Adam Sandler over the years, there's at least some hope that he can make us laugh again. Of course, Adam Sandler's strongest suit has never been stand-up, even in his heyday. Sure, he was skilled with the goofy songs, but his best work still lies on Saturday Night Live in the '90s, the same decade that saw him make his best movies. But maybe Sandler can tap into what made his work in Funny People so great and make us love his comedy again.
Adam Sandler: 100% Fresh hits Netflix on October 23.