Chris Evans Says He Didn't Spoil 'Avengers 4' In A Tweet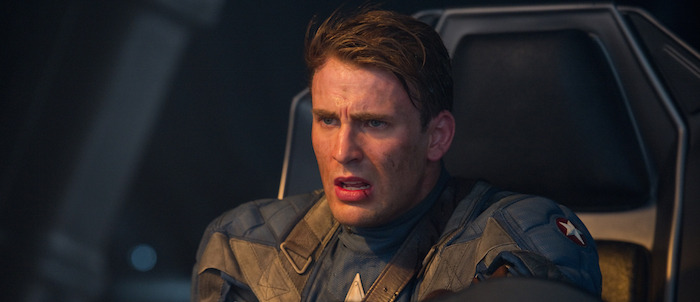 Did Chris Evans accidentally spoil Avengers 4 when he recently tweeted about how he was saying goodbye to the character of Captain America? No! Well, at least that's what he wants us to think. Evans recently appeared at a comic convention in Chicago to clarify his comment and reassure fans that he did not, in fact, ruin anything about the fate of the Star Spangled man with a plan. But maybe, just maybe, Marvel security got to him and are now orchestrating an elaborate cover-up campaign to throw fans off the scent.
Eh, probably not, though. Chances are pretty good that Evans is simply just telling the truth. Keep reading to learn about how he didn't actually spoil Avengers 4.
The Russos just wrapped production on Avengers 4, but Evans finished his on-set work a few days ago, when he tweeted the following:
Officially wrapped on Avengers 4. It was an emotional day to say the least. Playing this role over the last 8 years has been an honor. To everyone in front of the camera, behind the camera, and in the audience, thank you for the memories! Eternally grateful.

— Chris Evans (@ChrisEvans) October 4, 2018
Frenzied speculation began instantly in fan circles: does this mean that Captain America dies in Avengers 4? Is that why Evans is saying goodbye to the character? Did one of the stars of a franchise really just spoil a huge moment in what is sure to be one of the biggest blockbuster movies in years?
At Chicago's ACE Comic Con this weekend (via The Hollywood Reporter), Evans provided more context for his tweet:
"I should clarify that, I know I did tweet something that made a lot of people think that it was in some way a spoiler, and I should clarify that, regardless of how Avengers 4 ends, I would've tweeted the exact same thing. That last day of filming really was a very emotional day. It was the culmination of almost 10 years of filming and 22 movies, this unbelievable tapestry and you feel a lot more emotions than I think even I thought I'd feel, and I felt it was appropriate to share the gratitude. I know it had a ripple effect, but I am neither confirming or denying anything."
One could argue that Evans has been in the Marvel game for long enough know that he would never purposefully spoil anything, while another could point to Mark Ruffalo spoiling Avengers: Infinity War as a counterpoint to that argument. But as a counter to that argument, I'd say that it was clear that Ruffalo was just joking around at the time. I should probably just stop arguing with myself – this is exhausting.
The actor went on to say that the year-long wait between movies will be well worth it for audiences:
"It's never been done before and I don't know if it will ever be done again and they really stick a flag in the ground on this one and pull out all the stops and you won't be disappointed."
Meanwhile, Evans is gearing up to start shooting Rian Johnson's upcoming murder mystery Knives Out, a film that will see him team up with Daniel Craig, Lakeith Stanfield, and Michael Shannon.