'Bodyguard' Trailer: 'Game Of Thrones' Actor Richard Madden Leads Explosive Netflix Series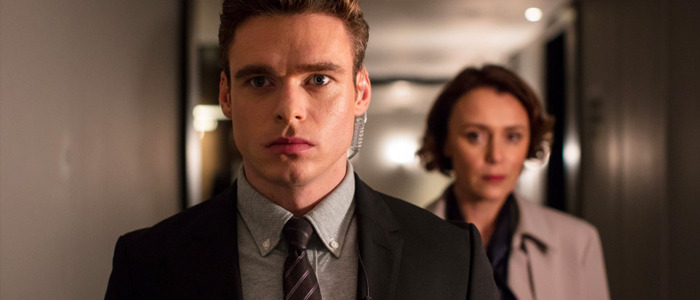 What happens when a secret service agent is assigned to protect someone with political views he absolutely despises? That's the elevator pitch for a new TV drama called Bodyguard, which is coming to Netflix in just over two weeks. The show, which stars Richard Madden (Robb Stark from Game of Thrones) and Keeley Hawes (High Rise, MI-5), is already a smash hit in the United Kingdom, and it's easy to see why: the trailer for the first season makes it look like an explosive series that could easily become the subject of your next binge session.
Bodyguard Trailer
Madden plays a war veteran with PTSD tasked with protecting a nakedly ambitious politician who's made some dangerous choices in her career, and I'll say this: even if he doesn't end up getting cast as the next James Bond (
as was rumored earlier this morning
), Madden can fill out a suit with the best of 'em.
Considering everything going on in the world right now, I've stopped watching political dramas because I spend too much of my day trapped in the hellhole of American politics. But Bodyguard, with its compelling premise, action-packed scenarios, and complex web of drama, looks like it could be the thing that gets me to break my self-imposed hiatus from the genre.
It also doesn't hurt that the show has earned strong reviews from UK critics and was so popular there that it became the biggest UK drama in ten years when it premiered earlier this summer. Bodyguard is created, written, and executive produced by Jed Mercurio, the creator of the hit UK cop drama Line of Duty, and as is often the case with British television shows, the first season has a comparatively short episode count: only six episodes. Mercurio has expressed interest in a second season, but as far as I can tell, he hasn't received an official order to continue the show yet.
One more thing: if you're interested in the show, I'd recommend diving in without reading anything more about it. I stumbled across a major spoiler doing just a cursory amount of research, and Wikipedia says "the series sparked a debate about how the media should handle spoilers" in the UK, with one magazine openly spoiling a key plot point on its cover during the show's initial run. Tread carefully, spoiler-phobes.
Here's the show's official synopsis:
Set in and around the corridors of power, Bodyguard tells the story of David Budd (Richard Madden), a heroic, but volatile war veteran now working as a Specialist Protection Officer for London's Metropolitan Police Service. When he is assigned to protect the ambitious Home Secretary Julia Montague (Keeley Hawes), Budd finds himself torn between his duty and his beliefs. Responsible for her safety, could he become her biggest threat?
Bodyguard hits Netflix on October 24, 2018.