'Black Panther' Oscar Chances Increase As Disney Limits 'Infinity War' To Only One Possible Nomination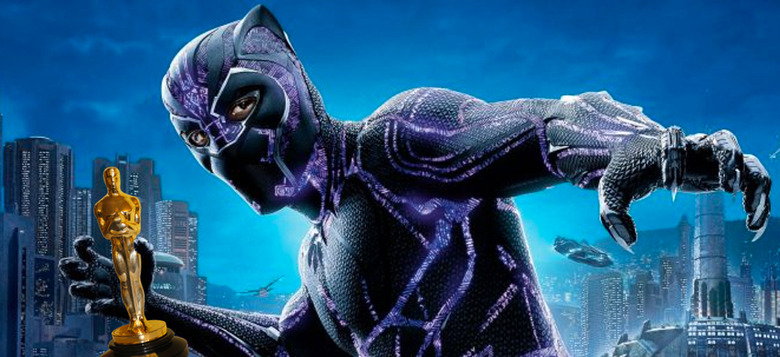 Marvel and Disney are very serious about the King of Wakanda claiming his Oscar crown. In an effort to limit any sort of category split, the House of Mouse is only campaigning Avengers: Infinity War for one Academy Award, while pushing Black Panther for every nomination under the sun. This greatly increases Black Panther's Oscar chances.
When Oscar season rolls around, studios usually try to push a whole slew of their films. Even movies that probably don't stand a chance at certain nominations get a little bump. Last year, Disney pushed both Thor: Ragnarok and Guardians of the Galaxy Vol. 2 for a
, including Best Picture, Best Director, Best Actor and more. Neither films likely stood a chance of netting those top tier nominations, but it didn't hurt Disney to try. But they're not taking any chances in 2018: they really want Black Panther to take it all.
Disney's
site has two Marvel movies listed – Black Panther and Avengers: Infinity War (sorry, Ant-Man and the Wasp). Rather than push both of these movies for multiple awards, the studio is only campaigning Infinity War for one award: Best Visual Effects. Meanwhile, Black Panther is up for everything. See for yourself.
Avengers: Infinity War 

None of this guarantees Black Panther will land a ton of Oscar nominations, but Disney's intent here is clear: they don't want Infinity War getting in the way of their potential Academy Award chances. They're putting all their awards season weight behind Black Panther. They're even planning a series of Black Panther screenings for Academy voters.
When speaking to the 
about Black Panther's Oscar chances, Marvel Studios President Kevin Feige said:
"I would like to see the hard work and the effort and the vision and the belief of the talented filmmaker Ryan Coogler, who sat across the table from us a few years ago and said, 'I have been wrestling with questions about my past and my heritage and I think I really want to tell a story within this movie'...And that he did it so unbelievably well and with so much impact ... seeing that potentially being recognized is what excites me the most."
Feige added: "I think [an Oscar for Black Panther] would be wonderful...The people behind the camera, the people on screen that acted in the movie, any of them being recognized would bring us great joy because they did tremendous work. And it's always nice when tremendous work is recognized."
While technical award nominations for the film seem like a given, there's a real sense that Black Panther could land a Best Picture nod as well. If that happens, it would the first superhero movie to earn such a nomination.