Showtime's Roger Ailes Miniseries Cast Adds Sienna Miller, Seth MacFarlane, And More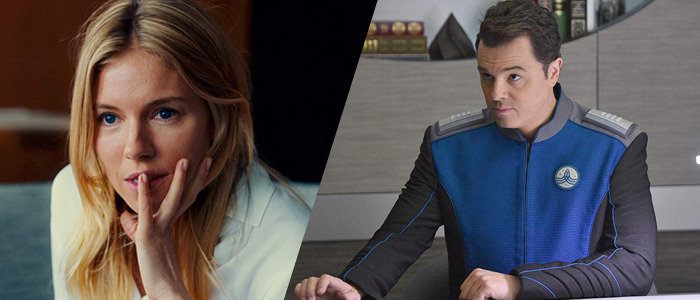 Roger Ailes, the man responsible for turning Fox News into a media empire, died in 2017, and Hollywood wasted no time developing takes on his scandal-laden downfall. Annapurna Pictures recently parted ways with a star-studded movie on the subject, but today, Showtime's Roger Ailes TV show cast just grew by four members.
Sienna Miller (Layer Cake, Lost City of Z), Seth MacFarlane (Family Guy, The Orville), Simon McBurney (Tinker Tailor Soldier Spy), and Annabelle Wallis (The Mummy, The Conjuring) have come on board, joining the previously-announced Russell Crowe, who is playing the role of Ailes, and Naomi Watts, who is playing anchor Gretchen Carlson. Find out who each of these actors will play in the upcoming series below.
Showtime's untitled limited series is based on Gabriel Sherman's book The Loudest Voice in the Room, which explores how Ailes became the de facto leader of the Republican party and tracks the last decade of his life, including the sexual harassment scandals that brought his long reign at Fox News to an ignominious end.
The press release has a detailed description of the people these new cast members will play:
Miller will portray former NBC news producer Elizabeth 'Beth" Ailes, who married Roger, 22 years her senior, in 1998, shortly after the founding of Fox News. Following their marriage, Beth devoted herself to raising their son Zachary as well as serving as the editor of the Putnam County News & Recorder newspaper in their home of Garrison, NY. Beth was a steadfast champion of Roger until his death in 2017 and, to this day, refutes any charge that her husband was less than innocent.
MacFarlane will take on the role of Brian Lewis, Fox News' public relations chief for over 17 years and Ailes' closest confidante and supporter. Lewis spent his career promoting and protecting Ailes until the media machine turned against Lewis and ended his career.
McBurney will play the role of legendary media magnate, Rupert Murdoch. Murdoch built his father's Australian newspaper company into a worldwide media empire. But his single greatest media move might have been hiring Roger Ailes to run Fox News, who, against all odds, created a conservative cable news network from the ground up and built it into a multi-billion dollar profit machine.
Wallis will play Laurie Luhn, a volunteer who, under Ailes' mentorship, rose to head of booking at Fox News. Giving into Ailes' growing demands, she began a long abusive relationship with him that impacted the rest of her life.
Sherman co-wrote the first episode of the show with Tom McCarthy, the Oscar-winning writer of Spotlight. Production starts next month in New York, and Emmy-nominated director Kari Skogland (The Handmaid's Tale) is set to direct the first two episodes.