'Widows' Featurette: How Chicago Shapes The Steve McQueen Heist Thriller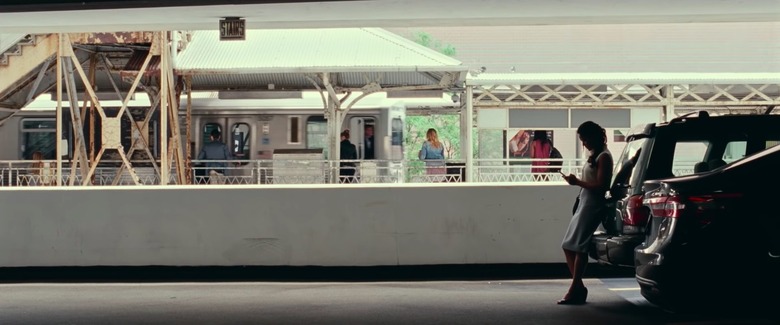 "We're after the truth. I don't go to a location with a stencil. I adapt to the environment," reads a quote by director Steve McQueen at the beginning of the newest Widows featurette about the film's Chicago location. The gritty heist thriller, penned by Gone Girl author Gillian Flynn, is set in the Windy City, and couldn't take place anywhere else. The featurette dives into why that is, and how Chicago helped shape the highly anticipated movie.
Widows Featurette
Though Widows adapts a 1983 British series of the same name, McQueen and Flynn's version is inextricably tied to Chicago. The filmmaker and author co-wrote the screenplay together — in Flynn's first work as screenwriter — and thus wanted to ground the story in a time and place that could bring together the dramatically different characters played by Viola Davis, Michelle Rodriguez, Elizabeth Debicki, and Cynthia Erivo. In a new featurette released by 20th Century Fox, McQueen and Flynn explain why that place had to be Chicago, Illinois.  McQueen says in the featurette:
"The location for the setting of Widows was very strategic. I wanted an environment that dealt with current-day issues. Race, politics, crime, policing. Chicago is the epicenter of all of that."
"The extremes that you see are pretty spectacular," McQueen adds. "Within 50 meters you could see the richest of environments to the poorest."
At this point, moviegoers may best know Chicago onscreen as the location doubling for Gotham City in Christopher Nolan's The Dark Knight — which Widows may unintentionally recall in various heist and chase scenes sprinkled throughout this featurette. The site of the famous tunnel chase in The Dark Knight is shown in this featurette, as Viola Davis narrates, "It creates a whole story, a full picture, as opposed to something that's contrived and imagined. When people see this movie, they're going to really be in it. They're gonna believe it."
Maybe it's just me, but that part of the featurette feels kind of like a jab at the "imagined" world of the Dark Knight and like a message to audiences saying, here's the real Chicago. But that won't stop me from looking forward to this movie, which has a murderer's row of talent in front of the screen (Colin Farrell, Brian Tyree Henry, Daniel Kaluuya, Jacki Weaver, Carrie Coon, Robert Duvall, and Liam Neeson round out the supporting cast) and behind the screen.
Speaking of behind the screen, here's another Widows featurette spotlighting the work of McQueen, who directed the Oscar-winning 12 Years a Slave.
Here is the official synopsis for Widows:
From Academy Award®-winning director Steve McQueen ("12 Years a Slave") and co-writer and bestselling author Gillian Flynn ("Gone Girl") comes a blistering, modern-day thriller set against the backdrop of crime, passion and corruption. "Widows" is the story of four women with nothing in common except a debt left behind by their dead husbands' criminal activities. Set in contemporary Chicago, amid a time of turmoil, tensions build when Veronica (Oscar® winner Viola Davis), Linda (Michelle Rodriguez), Alice (Elizabeth Debicki) and Belle (Cynthia Erivo) take their fate into their own hands and conspire to forge a future on their own terms.
Widows opens in theaters on November 16, 2018.