Steve Carell Thinks A 'The Office' Revival Would Be Difficult In Today's Climate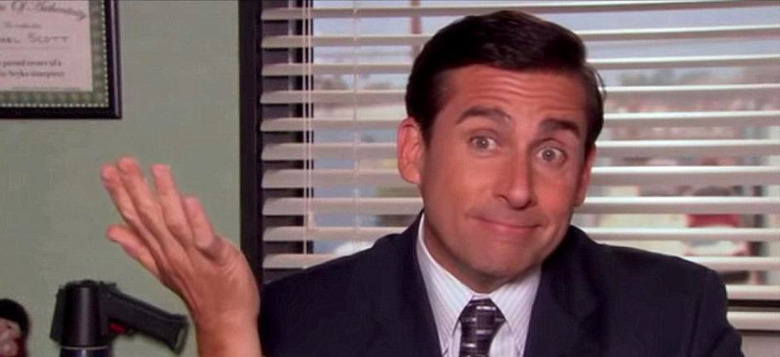 If an Office revival happens, don't count on Steve Carell to be involved. The actor, who played terrible boss Michael Scott on the hit NBC comedy, recently shared his thoughts on a potential revival, and not only does he think a revival is a bad idea, he also believes the show wouldn't work in today's climate.
TV revivals are big right now. Will & Grace, Roseanne (since cancelled, soon to be spun-off into The Conners), Murphy Brown, and more have already been revived, with even more to come. One show that frequently gets mentioned for a possible revival is The Office, the U.S. reboot of the BBC series of the same name. The American Office lasted nine seasons between 2005 and 2013. Steve Carell starred on the show for seven of those seasons, and he has some thoughts on a potential revival. Those thoughts boil down to this: don't do it.
Speaking with Esquire, the actor – who can soon be seen in the drama Beautiful Boy – revealed his caution with the concept of an Office revival. "Because The Office is on Netflix and replaying, a lot more people have seen it recently. And I think because of that there's been a resurgence in interest in the show, and talk about bringing it back," Carell says in the interview before adding: "I just don't think that's a good idea." The actor goes on to elaborate a bit more:
"It might be impossible to do that show today and have people accept it the way it was accepted ten years ago. The climate's different. I mean, the whole idea of that character, Michael Scott, so much of it was predicated on inappropriate behavior. I mean, he's certainly not a model boss. A lot of what is depicted on that show is completely wrong-minded. That's the point, you know? But I just don't know how that would fly now. There's a very high awareness of offensive things today—which is good, for sure. But at the same time, when you take a character like that too literally, it doesn't really work."
I can definitely see where Carell is coming from here. I also think a lot of fans of the show seem to miss the fact that Michael Scott is terrible. Aside from a few moments, he's not even a likable character. Is he sympathetic? Sure! Likable? No. It's to Carell's credit that he managed to make the character so watchable.
One could, of course, bring The Office back and change the style of humor. But would that even be The Office then? What would be the point? Perhaps we should all make due with re-watching the original series on Netflix, and not worry about a revival anytime soon.