Freddie Mercury Biopic 'Bohemian Rhapsody' On Track For A $30 Million Opening Weekend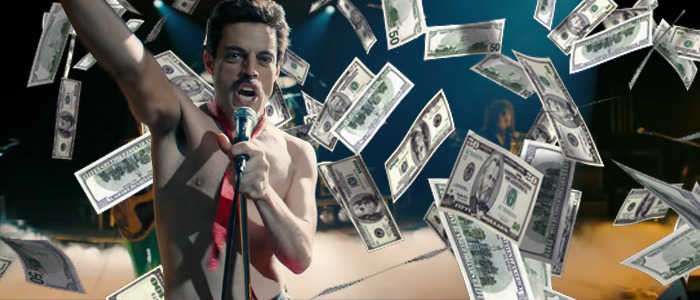 Is this the real life? Well, it's not a fantasy – a new report says that early tracking numbers for Fox's Bohemian Rhapsody suggest the long-in-the-works biopic of Queen frontman Freddie Mercury could make as much as $30 million in its opening weekend. That would be enough to make it the second-highest opening ever for a music biopic. Find out what competition it has to beat below.
According to Variety, Bohemian Rhapsody is aiming for a $30 million opening weekend in North America when it arrives in less than a month. If that number holds, the film will slide into the number two slot on the list of music biopics with the highest opening weekends in history, behind Straight Outta Compton's $60 million but ahead of last year's Tupac Shakur biopic All Eyez on Me, which earned $26.4 million in its first few days in theaters.
$30 million would also be the highest non-superhero opening weekend for director Bryan Singer, who was fired from this film and replaced by Eddie the Eagle director Dexter Fletcher (though Singer managed to retain the sole director's credit). Singer has helmed four X-Men movies and Superman Returns, but $30 million would beat out the opening weekend numbers for Jack the Giant Slayer, Valkyrie, Apt Pupil, and Usual Suspects.
Bohemian Rhapsody stars Mr. Robot's Rami Malek as Freddie Mercury, the lead singer and songwriter for the legendary rock band Queen. While the singing in the most recent trailer is actually Mercury, the movie will feature a blending of Malek's voice with singer Marc Martel, and it sounds like a bit of Mercury's vocals could be used as well.
Bohemian Rhapsody is a foot-stomping celebration of Queen, their music and their extraordinary lead singer Freddie Mercury. Freddie defied stereotypes and shattered convention to become one of the most beloved entertainers on the planet. The film traces the meteoric rise of the band through their iconic songs and revolutionary sound. They reach unparalleled success, but in an unexpected turn Freddie, surrounded by darker influences, shuns Queen in pursuit of his solo career. Having suffered greatly without the collaboration of Queen, Freddie manages to reunite with his bandmates just in time for Live Aid. While bravely facing a recent AIDS diagnosis, Freddie leads the band in one of the greatest performances in the history of rock music. Queen cements a legacy that continues to inspire outsiders, dreamers and music lovers to this day.
Bohemian Rhapsody hits theaters on November 2, 2018.