'Mr. Mom' TV Series Coming From MGM And Vudu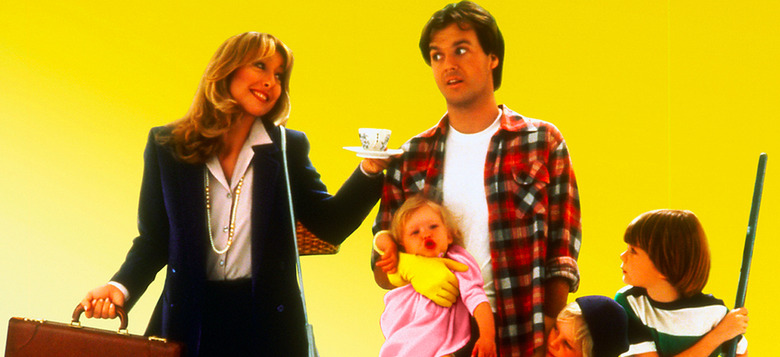 Mr. Mom, the 1983 Michael Keaton comedy about a man who must face the terrible fate of raising his children, is poised for a reboot. Walmart's streaming service Vudu recently partnered with MGM to create original programming, and it looks like a Mr. Mom TV series is first on their list. This reboot will update the story from the '80s into the 21st century.
Mr. Mom
Released in 1983, Mr. Mom had a script from the late John Hughes, and starred Michael Keaton, Teri Garr, Jeffrey Tambor, Ann Jillian, Christopher Lloyd and Martin Mull. With the '80s recession in full swing, "automobile engineer Jack (Michael Keaton) is fired from his job. When his wife, Caroline (Teri Garr), finds a job before he does, they switch roles, placing him in the unfamiliar position of homemaker and caretaker to their three children. He embarks upon a series of misadventures, from navigating grocery store trips to playing poker games with housewives. Jack and Caroline must figure out the intricacies of their new roles while maintaining their relationship." A man, raising children?! While his wife goes to work?! Sounds like a wacky comedy if you ask me!
That's it, folks. That's the joke: he's a guy, and he has to raise kids while his wife works. Wacky! And now it's becoming a TV series, thanks to Vudu and MGM. As previously reported, Vudu and MGM have teamed up to create original programming that will be available on the ad-supported Movies On Us section of Vudu. This won't be your standard reboot, though. Instead, Mr. Mom will follow the Fuller House model in that it serves as a sequel and a reboot. In the show, the baby from the original movie – Megan – is now "an adult going back into the work force (like her mom in the original) while her husband takes over parenting duties," per Deadline. Does this mean Michael Keaton might pop up in a cameo appearance? I doubt it, but you never know.
"It's just the beginning. It's one that we hope will be of many," said Julian Franco, head of Advertising VOD at Vudu (via THR). "We have a pipeline of new exclusive content coming." Franco added that even more original titles will be announced in the upcoming months. The appeal here is that while Vudu's original content is going to have advertising, it's also going to be free to watch, which is certainly an incentive.