DC Comics' 'Secret Six' Series In Development At CBS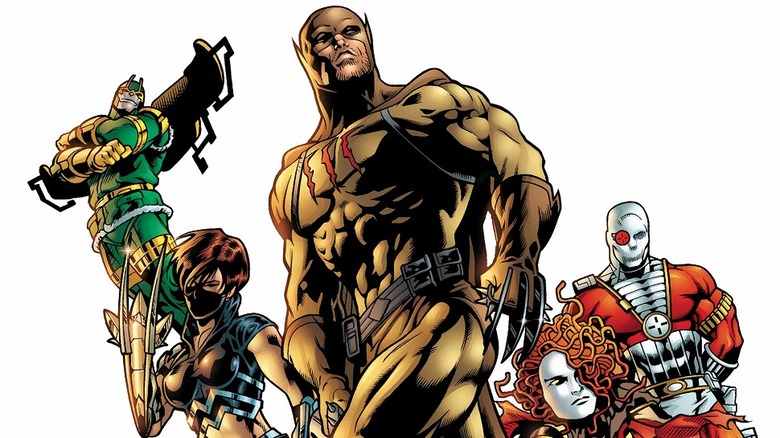 Yet another morally ambiguous team of villains featuring Deadshot is making its way to the screen.
CBS has begun developing a Secret Six series based on the DC Comics property of the same name. Secret Six is the second DC property to be adapted to series by CBS, with Supergirl airing its first season on the network before joining its cohorts at The CW.Variety reports that CBS is developing a Secret Six series with a production commitment to the pilot. The series follows a team of morally dubious superpowered characters, often villains, brought together by an enigmatic figure called the Mockingbird who blackmails them into working together as a team to expose corporate and political corruption.
The DC Comics team has had a rotating roster of members, including many recognizable Gotham rogues such as Bane, Harley Quinn, Lex Luthor, the Mad Hatter, and the Penguin. But naturally, DC's favorite morally gray sniper Deadshot (recently portrayed in Suicide Squad by Will Smith) is a staple of this team. The concept sounds remarkably like the premise for the Warner Bros. film Suicide Squad — a team of rogues who are forced to do good. Whether people will tune in just for that concept itself is yet to be seen, but the series does offer another chance to tap into the DC Comics' strongest element: its villains.
There's no word yet on which characters will appear in the pilot. DC Comics TV series have never shied away from using characters that have big-screen counterparts before, so it's totally possible that Deadshot could make yet another screen appearance —  he's also appeared in Greg Berlanti's Arrow played by Michael Rowe.
However, unlike CBS' last venture into superhero series with Supergirl, Secret Six doesn't have ties to Berlanti's sprawling Arrow-verse. Rick Muirragui (Suits) is set to write and executive produce, with Bill Lawrence and Jeff Ingold executive producing via Doozer Productions, which has an overall deal with Warner Bros. Television. So if this series isn't an immediate hit with CBS' over-40 crowd like Supergirl was (which in all honesty, should've been shipped to The CW from the start), Secret Six probably won't find a second home at The CW. Though there's always the DC streaming service.