With 'First Man,' Ryan Gosling Cements Himself As One Of Our Finest (And Most Adventurous) Actors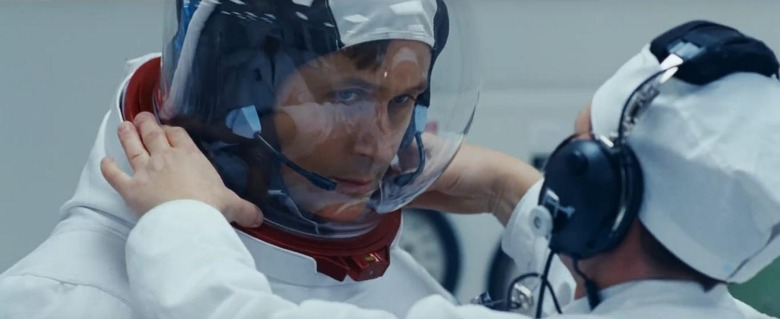 What feels like the distilled version of who Ryan Gosling is, or who Ryan Gosling presents himself as, can be found if you look at the photos of him on the stage at the Oscars as La La Land and its producers realized that they hadn't won Best Picture after all. You probably know the photo: it's him, standing somewhat removed from the phalanx of people representing both the exuberant modern musical and Moonlight, the actual winner, with a slight, bemused smile.That distinctive look, the sense that he's sharing a private thought (sometimes funny, sometimes not) with himself alone, is one that you can find when you watch most of his work throughout the 2010s, all the way through his latest film, First Man.
An Emotionally Claustrophobic Star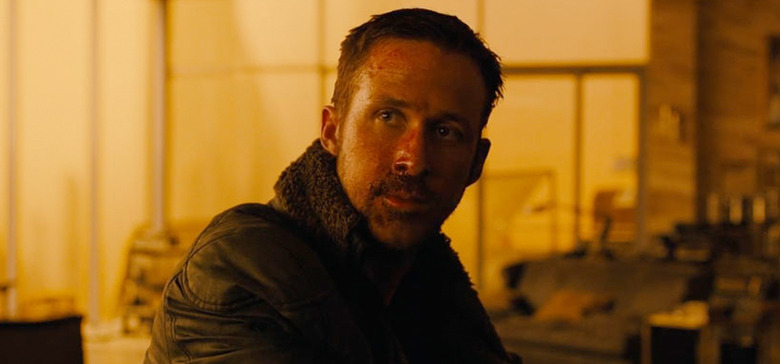 First Man, while bolstered with an impressive ensemble, rarely leaves the perspective of its leading man, portraying Neil Armstrong, the first man to walk on the surface of the Moon. At least in the way the American astronaut is portrayed in this follow-up film from La La Land director Damien Chazelle, he is fiercely private to the point of being emotionally claustrophobic. Gosling's performance as Armstrong is the exact opposite of the kinds of showy, big performances that get talked about at the end of a given year. Chazelle, Gosling and screenwriter Josh Singer have made the calculated choice to not give Neil Armstrong big, emotional moments. Though it may make First Man feel all the more intense in its unwillingness to offer release, this fits right in with so many of Ryan Gosling's recent films.At least some of the walled-off emotional state of acting is present in the film that represented a turning point for him, Nicolas Winding Refn's neon-hued pseudo-action picture Drive. Gosling seemed less like a human being and more like a robot going through the motions, no matter what the abstract electronica song that became associated with Drive tells us. The Driver has no identity, aside from his inexplicable gift to maneuver fast cars through criminal activity. He looked plenty slick and stylish, but the character is a shadow, enigmatic and implacable to a fault. Of course, in both Drive and Refn's follow-up Only God Forgives, there is a release of some kind for the audience, through the use of graphic and gory violence. In those moments, Gosling's characters – both exceptionally taciturn types – let off steam the only way they know how, by beating someone to a pulp or being beaten to a pulp.The enigmatic side is what we see from Ryan Gosling in First Man. The opening section of the film proves the key for how Armstrong's characterized throughout. We first see him as a test pilot of an X-15, and how that mission both nearly goes haywire and offers Neil his first glimpse of the horizon of the planet from outer space. Once Neil arrives back at Edwards Air Force Base in California, we see what his home life looks like, as he gets close to his 2-year old daughter Karen. That relationship is cut quick almost immediately, as Karen, suffering from a brain tumor, dies only a few screen-time minutes later. After the funeral, Neil's son Rick asks him to play, to which he demurs and goes into his study, where he cries. It's one of the only times Gosling displays a burst of emotion in the entire film.Instead, we mostly see Armstrong as a man whose extreme calmness sometimes suggests a lack of awareness. As Neil gets closer and closer to taking part in a trip to the Moon, he becomes more and more incapable of being at home with his wife Janet (Claire Foy) and their two boys. The most extreme example of this is when Janet literally has to force Neil to sit down with his children and explain that when he leaves to lead the manned space mission Apollo 11, he may never see them again. The scene where Gosling exudes a sense of awkwardness in repeating the same canned responses Armstrong gives to reporters manages to both be funny and painfully sad; his kids don't know what to say, and he has no comfort to give them.
Taking a Break With Comedy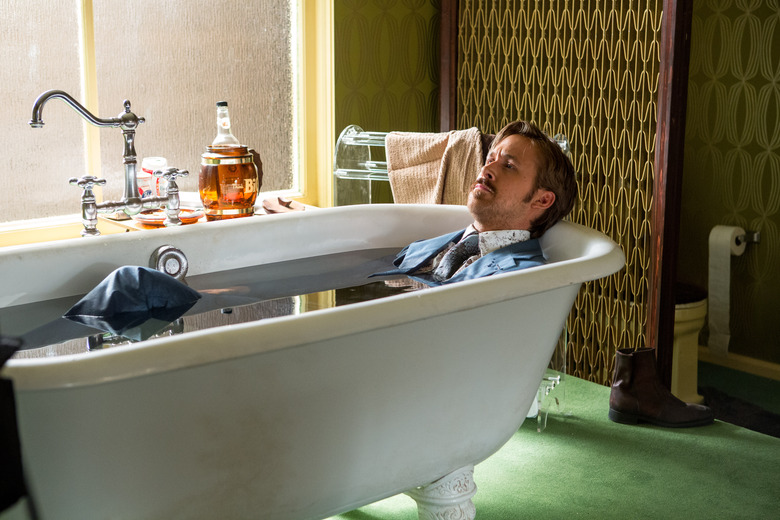 What makes Ryan Gosling one of the most interesting and daring actors of his generation isn't that he plays the same kind of strangled emotional notes in every one of his starring roles. (Let it be said that, a year later, his work in Blade Runner 2049 found plenty of nuance in a character who deliberately wasn't meant to be emotional, even if the secrecy surrounding the film was nonsense.) In between making films like First Man and Drive, he's reversed course radically but done so with surprising ease. The same year as Drive, he co-starred in the fun and frothy romantic comedy Crazy, Stupid, Love, where he got to be as flashy as The Driver, but in the same sly, insouciant manner as other dashing leading-men types, like a newer version of George Clooney circa Ocean's Eleven.But it's the Shane Black crime comedy The Nice Guys that suggests a true mastery of comic chops for Ryan Gosling that you almost wish he'd lean back in that direction for his next role. In the film, Gosling plays a private detective named Holland March in Los Angeles circa 1977 who teams with Jackson Healy (Russell Crowe) on a lurid case full of sex, murder, and more. The neo-noir stylings are right in line with Black's Kiss Kiss, Bang Bang, but Gosling's wild and manic performance is something else.It's hard to choose a favorite clip within this YouTube montage, but the bit at the midpoint where March inadvertently falls off the balcony of a fancy mansion and lands right next to a very gross, very dead body is almost Lou Costello-esque in its delightful hamminess. Films like Crazy, Stupid, Love and even the aforementioned La La Land suggest that Ryan Gosling can ooze charm whenever he wants to. But a movie like The Nice Guys suggests that the guy has hidden comic chops.
Keeping Things Close to the Chest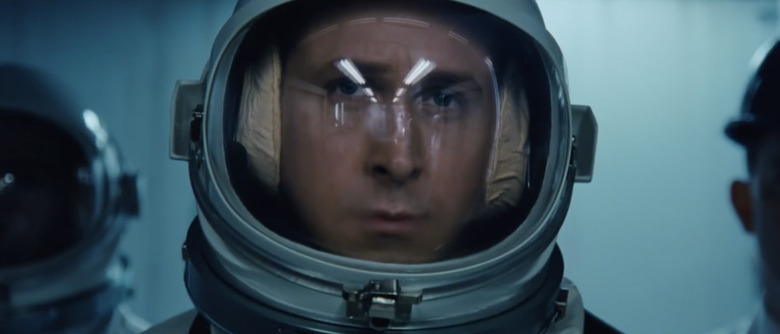 The ease with which Gosling can play comedy as much as romance or pathos or intensity is as surprising as the realization that he can do it in the first place. The Nice Guys was a welcome shock, simply because Ryan Gosling doing a riff on Lou Costello just...didn't seem like something he'd ever do. And a couple years ago, of course, it may not have seemed like a natural follow-up film for the director and male star of La La Land would be a rigorous and frequently terrifying depiction of the American side of the space race in the 1960s as filtered through the man who took the first steps on the Moon. (First Man, unlike some other space-race movies, is unrelenting in its depiction of manned space travel as being as frightening to consider as it was awe-inspiring. The fact that anyone went to space is a goddamn miracle.)The strength that Ryan Gosling has as an actor is his unending ability to surprise. First Man is perhaps not Damien Chazelle's best film – the choice to avoid any deeper context for Neil Armstrong's emotions or lack thereof, aside from his inward grief at the loss of his daughter, is a little alienating at times – but it does feature one of Gosling's very best performances. Though it won't go down as his most boisterous or charming star turn, First Man showcases Gosling's interiority to an excellent degree.