Pop Culture Imports: Park Chan-Wook's Vengeance Trilogy, An Indian Millennial Comedy Series, And Lots Of French Drama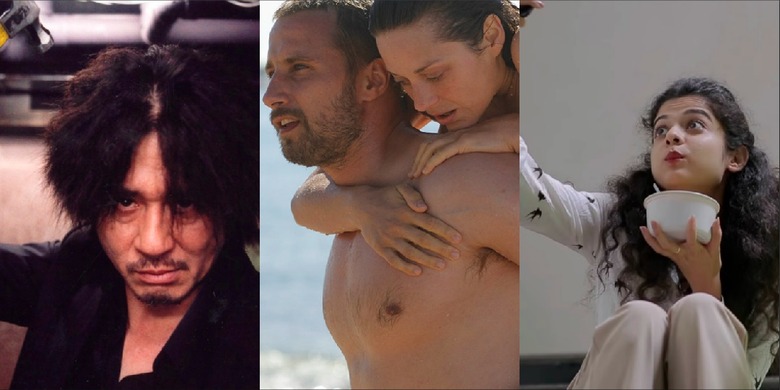 (Welcome to Pop Culture Imports, a column that compiles the best, wackiest, and weirdest foreign-language movies and TV shows streaming right now.)
We're midway through October, so you're probably expecting some foreign horror flicks in this week's Pop Culture Imports. And you'll get them in time, but for now, let me indulge you in some French dramas. They're more interesting than they sound! Two of the said dramas are from electric French filmmaker Jacques Audiard, the director behind the searing prison drama Un prophète, while another features a stunning tour-de-force from Charlotte Rampling. But if you want to avoid all that French ennui, there's also Park Chan-wook's vicious Vengeance Trilogy and an Indian millennial comedy series.
Let's fire up the subtitles and get streaming.
Park Chan-wook's Vengeance Trilogy – Shudder
Country: South KoreaGenre: ThrillerDirector: Park Chan-wookCast: Kang-Ho Song, Shin Ha-kyun, Bae Doona, Choi Min-sik, Yoo Ji-tae, Kang Hye-jung, Lee Young-ae
Korean auteur Park Chan-wook has mastered a particular brand of brutal sadism, and it's never been better on display than in his so-called Vengeance Trilogy. His series of three films — Sympathy for Mr. Vengeance, Oldboy, and Lady Vengeance — tackle the themes of revenge and salvation, with a healthy splattering of blood and mind-shattering twists. You may have already seen the gut-churning thriller Oldboy, Park's most renowned film, but the horror streaming platform Shudder offers a crash course in the entire unofficial trilogy. Go back to the beginning with 2002's Sympathy for Mr. Vengeance, which follows a bereaved father enacting vengeance upon a desperate deaf-mute man who kidnapped his daughter to pay for his sister's kidney transplant. But I highly recommend you watch the underrated capper to the trilogy, 2005's Lady Vengeance, an artfully insane tale of a wrongfully imprisoned woman who, following her release from prison, sets out to find her kidnapped daughter and enact revenge upon the real murderer.
Watch This If You Like: Kill Bill, Death Wish, Django Unchained, Memento, eating live octopus.
Rust and Bone – Hulu
Country: FranceGenre: DramaDirector: Jacques AudiardCast: Marion Cotillard, Matthias Schoenaerts.
Too many disabled dramas double down too heavily on emotional manipulation, but Rust and Bone never runs the risk of artifice. A surprisingly tender family drama from director Jacques Audiard, best known for his gritty crime films, Rust and Bone tells the story of a troubled unemployed father Ali who strikes up a relationship with a woman, Stéphanie, who trains killer whales. But after a horrific accident results in Stéphanie losing both her legs, the two fall into a strange codependent relationship as Ali struggles to cope with parenting his young son while fighting his violent urges, and Stéphanie deals with depression from her new disability. Rust and Bone seems like a cut-and-dry melodrama, but it's boosted by profoundly affecting performances from Marion Cotillard and Matthias Schoenaerts. Cotillard especially is a standout (but then again, when is she not?), delivering a nuanced and heartrending turn as a formerly free-spirited woman at the end of her rope. Rust and Bones is by no means sleek, but it's got enough raw emotion to drive the film's aimless narrative.
Watch This If You Like: The Intouchables, Me Before You, Silver Linings Playbook, forgiving Marion Cotillard for that phoned-in performance in The Dark Knight Rises.
Dheepan – Hulu
Country: FranceGenre: Crime dramaDirector: Jacques AudiardCast: Antonythasan Jesuthasan, Kalieaswari Srinivasan, Claudine Vinasithamby.
It's a Jacques Audiard double-feature! This time the French filmmaker returns with another searing dive into the immigrant experience in the criminal underbelly with which he made such a strong mark with in 2009's Un prophète. This film is partially inspired by Montesquieu's Persian Letters, the 1971 film Straw Dogs, and the life of star Antonythasan Jesuthasan, a former child soldier. Jesuthasan stars as the titular Dheepan, a Tamil Tiger soldier who flees the war-ravaged Sri Lanka to France along with two other refugees, a woman, Yalini, and a young girl, Illayaal, who pose as his family to create a convincing cover story. But their new lives in Paris aren't as peaceful as they'd assumed, as they're sent to a housing project controlled by competing drug gangs. Dheepan is a deeply character-driven film that sometimes stumbles around the more intimate interactions — though Kalieaswari Srinivasan is magnificent as the prickly and hard-edged Yalini — but still presents a powerful portrait of outcasts struggling in a society that rejects them.
Watch This If You Like: La Haine, Slumdog Millionaire, Straw Dogs, remembering how great Un prophète was.
Little Things Season 1 and 2 – Netflix
Country: IndiaGenre: Comedy seriesCreator: Dhruv SehgalCast: Dhruv Sehgal, Mithila Palkar, Aman Bhagat.
Most people's first thought when it comes to Indian cinema or TV is Bollywood — flashy musical productions which tell fantastical tales of heart-pounding romance and action. But Dice Media's Little Things, a web series about a millennial couple living in Mumbai, dials things back to show India as it is. Created by and starring Dhruv Sehgal and Mithila Palkar, Little Things follows its lead couple as they go the small trials and tribulations of everyday life: going to work, feeling FOMO over their friends, choosing what to eat for dinner. It's a charming, funny, and relatable comedy series that feels totally at home at Netflix, where it joins its fellow meandering millennial ode, Master of None. Picked up by the streaming service for its second season, Little Things injects a little more conflict into the peaceful co-existence of Dhruv and Kavya, whose relationship goes through a few hurdles that they must overcome.
Watch This If You Like: Master of None, Girls, Insecure, telling yourself that you could totally move to Mumbai if you wanted to.
Hannah – Amazon Prime
Country: ItalyGenre: DramaDirector: Andrea PallaoroCast: Charlotte Rampling.
Director Andrea Pallaoro took a gamble with Hannah. A beautifully if frustratingly austere film, Hannah only works thanks to the strength of Charlotte Rampling's astounding performance. The film opens on a primal scream — Rampling's titular Hannah, staring blankly as her open mouth lets out an unearthly yowl. Is it a form of therapy? A moment of catharsis? It turns out it's a theater group — one of the many mundane activities that Rampling's titular character engages in as she drifts through the humdrum of her daily life. Hannah cleans the house of a rich woman with a mentally challenged son. Hannah goes to the gym. Hannah cooks herself dinner, alone. But looming over her detached existence is that of her nameless husband (André Wilms), imprisoned for reasons we never learn. The movie's stark minimalism would never work if not for the incredible work by Rampling, whose every subtle facial expression, every movement screams of her pain and misery as loud as that opening primal scream. But the audience will be granted no catharsis, except in perhaps watching Rampling at the peak of her craft.
Watch This If You Like: Amour, 45 Years, screaming into the void.