'Ralph Breaks The Internet' International Trailer Has Plenty Of Brand Awareness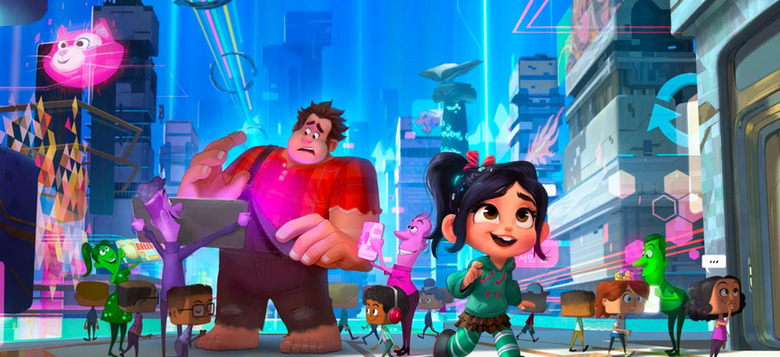 Hey kids, do you like brands™? Then you're going to love Disney's Ralph Breaks the Internet, the sequel to Wreck-It-Ralph. Every single trailer for the film has played up the fact that the animated sequel is chock-full of brand awareness, including this new international trailer. There's also some new footage here, so it has that going for it as well. Check out the Ralph Breaks the Internet international trailer below.
Ralph Breaks the Internet International Trailer 
As a fan of the first Wreck-It-Ralph, I sincerely hope Ralph Breaks the Internet turns out to be good. The world the first film established was a blast, and the footage with the Disney princesses from this sequel is certainly amusing. On top of all that, John C. Reilly is always a welcomed presence. But the majority of the footage released so far has made the entire project look like "Do You Recognize These Brands: The Movie." This international trailer is no exception, unfortunately.
Still, trailers only show you so much. There's bound to be a lot more to the full film itself, and it will hopefully move beyond the constant references to recognizable things.
In the sequel, "video-game bad guy Ralph (voice of John C. Reilly) and best friend Vanellope von Schweetz (voice of Sarah Silverman) leave the comforts of Litwak's arcade in an attempt to save her game, Sugar Rush. Their quest takes them to the vast, uncharted world of the internet where they rely on the citizens of the internet–the Netizens–to help navigate their way. Lending a virtual hand are Yesss (voice of Taraji P. Henson), the head algorithm and the heart and soul of the trend-making site "BuzzzTube," and Shank (voice of Gal Gadot), a tough-as-nails driver from a gritty online auto-racing game called Slaughter Race, a place Vanellope wholeheartedly embraces–so much so that Ralph worries he may lose the only friend he's ever had."
Of course, all anyone really wants to talk about is how Disney brought together their princesses, and managed to bring most of the original voice actresses back for the roles, including Jodi Benson as Ariel, Paige O'Hara as Belle, Linda Larkin as Jasmine, Irene Bedard as Pocahontas, Ming-Na Wen as Mulan, Anika Noni Rose as Tiana, Mandy Moore as Rapunzel, Kelly Macdonald as Merida, Kristen Bell as Anna, Idina Menzel as Elsa, and Auli?i Cravalho as Moana
Ralph Breaks the Internet hits theaters November 21, 2018.