Jason Blum, Antoine Fuqua, Guillermo Del Toro & More Developing Shows For New Streaming Service 'Quibi'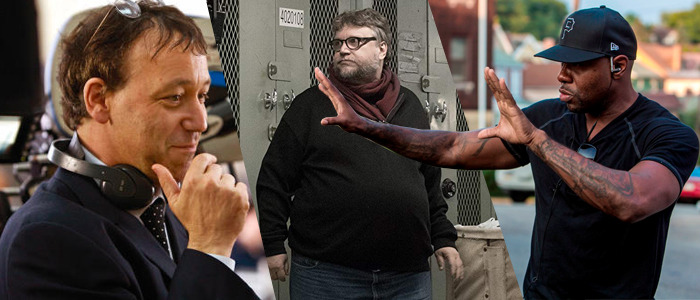 If you thought there were already too many streaming services to choose from, prepare yourselves for a new contender to enter the fray. Former Walt Disney Studios chairman and DreamWorks co-founder Jeffrey Katzenberg and CEO Meg Whitman have announced that their short-form content mobile subscription platform has an official name: Quibi, which is short for "quick bites." As in, quick bites of content that are only 10-15 minutes long.
No, this is not a joke.
In addition to unveiling the platform's name, the company's founders revealed a handful of major Hollywood players who are on board to develop shows for the new service, including Jason Blum, Guillermo del Toro, Antoine Fuqua, and the previously-announced Sam Raimi. After you catch your breath from laughing so hard at the dorkiest name in streaming – Seriously? "Quibi?" – keep reading to learn more about each of their new shows.
I'll avoid more jokes about this service's goofy name for the rest of this article, but please appreciate how hard it is for me to do that. OK. Moving on.
At the Vanity Fair New Establishment summit (via Variety), Katzenberg and Whitman spilled some small details about the new shows from each of their collaborators. Here's a very brief rundown with what we know so far:
Producer Jason Blum (Get Out, Halloween) is working on a show called Wolves and Villagers, which Katzenberg described as "Fatal Attraction 2.0".
Antoine Fuqua (The Equalizer, Training Day) is developing a modern telling of Sidney Lumet's 1975 movie Dog Day Afternoon which is eying two A-listers for the lead roles.
Details of Guillermo del Toro's show are still under wraps, though the Variety report says he's actually working on multiple projects for Quibi.
And as we speculated about yesterday, Sam Raimi is developing 50 States of Fear, which "will highlight the scariest folklore from each state in America."
Each episode of these shows will be approximately ten minutes long, and all of these projects are aiming for a total running time of between two and four hours. That means the two-hour shows will be around 12 episodes, while the four-hour shows will feature consist of around 24 episodes.
Katzenberg and Whitman said they're about a year away from launching the Quibi app and the content that will premiere with it, and that they're primarily aiming to make an impact with the 25-35 age demographic. The company has already raised $1 billion (with a "b") in funding, and has the backing of every major Hollywood studio. You can read more about their tiered pricing plans right here.