Female-Led 'Kung Fu' Sequel Series In Development At Fox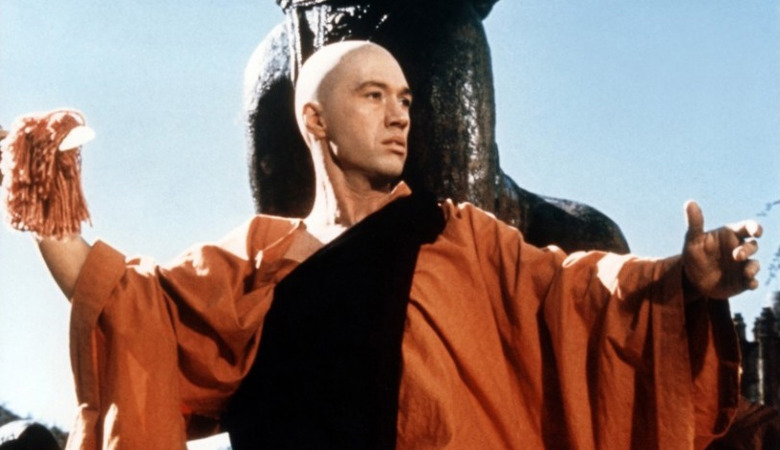 Reboot mania has reached a fever pitch, with Fox reviving a classic martial arts western series that may have been better left behind in the dust. The '70s series Kung Fu is receiving a sequel series featuring a female lead and a hopefully less whitewashed cast.
The original series, which ran from 1972 to 1975, arrived at the height of the martial arts craze in America and starred David Carradine as a half-Chinese Shaolin monk who wanders the American West. Now a Kung Fu sequel series has been picked up for a pilot by Fox, which hopes to revamp it with a modern audience in mind.
Deadline: reports that Fox has put a pilot commitment to Kung Fu, a modern-day sequel series to the awkwardly-titled Carradine '70s classic. Former Sleepy Hollow executive producer Albert Kim, Greg Berlanti's Berlanti Prods. and Warner Bros. TV are set to produce the pilot.
Kim is set to write the sequel series will follow a new character named Lucy Chang, whose relation to Carradine's character is unclear. Per Deadline:
Kung Fu is an action-driven procedural about a young Chinese-American woman who inherits her father's kung fu studio, only to discover it's actually a secret center dedicated to helping members of the Chinatown community who have nowhere else to turn. With the help of a former star pupil — a smart and driven ex-Marine — she vows to continue the school's mission. In the process, she discovers things she never knew about her cultural background and family's heritage, including a connection to a legendary ancestor.
That legendary ancestor is likely Carradine's protagonist of the original series, Shaolin monk Kwai Chang Caine who flees China and travels the American Old West in search of his American half-brother. The casting of Carradine, a white actor, in the role of a half-Chinese character faced some protest from the Asian-American community back in the '70s but went relatively unnoticed when it aired — something that would definitely not fly today. Combined with the exoticism of the original series and its painful title, it's a little puzzling why Fox would choose to bring Kung Fu back at all. Even if reimagined with a female, Chinese-American lead, that's a lot of baggage to bring back from the '70s martial arts exploitation days.
And this is just the second attempt to bring back the series, after a "more straight-forward female-lead reboot of the original series with a different writer" was developed last year, according to Deadline. That series was a period drama set in the '50s and followed a similar narrative as the original, except Lucy Chang was in search of the man who stole her child years before.
Admittledly, Berlanti has proven to be a talented producer who pushes diversity in the CW TV superhero shows like The Flash and Supergirl, and having an Asian-American talent like Kim behind-the-scenes is encouraging. And an Asian-led project would be another win for representation after the flood of projects following the success of Crazy Rich Asians. It just seems like a matter of dealing with the original show's historical baggage, which hopefully the team can tackle with the pilot. We'll have to wait and see.