'Speed Kills' Trailer: John Travolta Loves Running Drugs With Fast Boats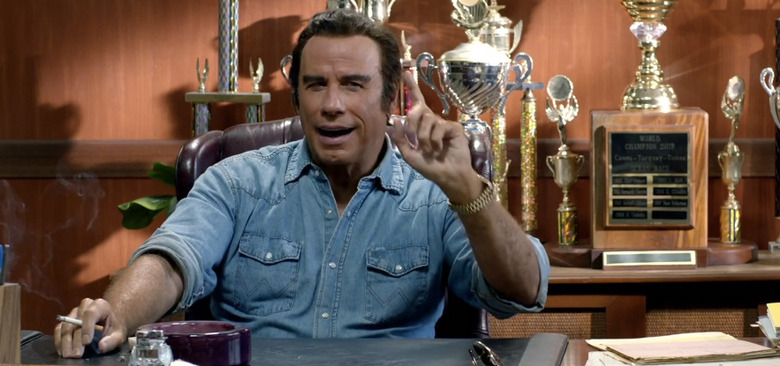 Just when you thought John Travolta had reached the pinnacle of bad movies with this year's release of Gotti, the trailer for a new crime thriller called Speed Kills comes in at the last minute in an attempt to steal the glory.
Speed Kills is supposedly inspired by a true story and finds John Travolta playing Ben Aronoff, a speedboat racing champion and boat manufacturuer who has made quite the luxurious life providing vessels for both the US Coast Guard and drug smugglers. It's basically American Made with boats instead of planes, and it's worse. Way worse. Watch the Speed Kills trailer below to see what we're talking about.
Speed Kills Trailer
You might remember hearing about Speed Kills before, because it was also simultaneously crafted as a VR production that somehow won Best Feature Film VR 2018 at the Cinequest Film Festival in Silicon Valley. You can check it out on Oculus, the Google Play store, and Apple's app store.
But for those of you who haven't jumped into the world of VR experiences yet, this is just teasing the regular crime thriller movie version with John Travolta making some serious bank, speeding around in sick boats, getting hassled by the law, and hooking up with some bodacious babes like a totally radical dude. What more could you ask for?!
Look, we know Travolta isn't exactly the most picky actor nowadays, but the least he could do is making some interesting movies in between the garbage like Nicolas Cage has done. Instead, Travolta's career has become almost as much of a joke as the ridiculous hairpieces he wears on the red carpet and in movies. At this point, they might as well remake Grease and have him play the gym teacher. That would make more sense than this movie.
Joining Travolta in Speed Kills is Katheryn Winnick, Matthew Modine, James Remar, Kellan Lutz, Jennifer Esposito, Tom Sizemore, Jordi Molla, Michael Weston, Moran Atias, and Amaury Nolasco. And hopefully their paychecks went to good use.
Speed Kills is directed by John Luessenhop (Takers, Texas Chainsaw 3D) and Jodi Scurfield (making her directorial debut). Luessenhop also wrote the screenplay with David Aaron Cohen, who both crafted the story with Paul Castro, which was based on the book of the same name by Arthur J. Harris. The film is slated to hit select theaters on November 16, 2018.