'Cobra Kai' Season 2 Teaser Video Tours A Familiar 'Karate Kid' Set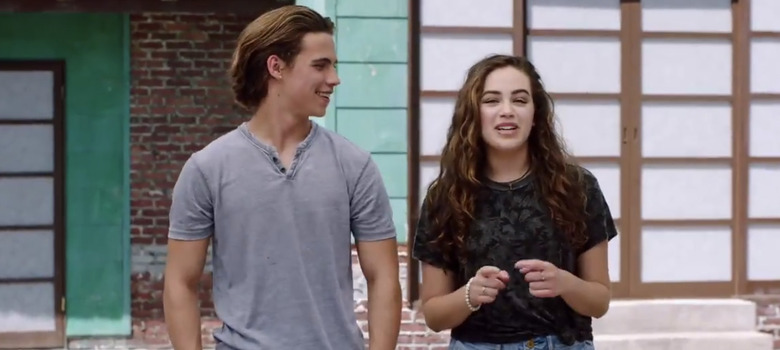 The first season of the Karate Kid sequel series Cobra Kai on YouTube was a surprise hit. Fans of the original films starring Ralph Macchio and William Zabka found themselves caught up in a bit of nostalgia, but also in the story of the next generation of karate kids that was much better than anyone thought it would be.
Now creators Jon Hurwitz, Hayden Schlossberg, and Josh Heald are hard at work on the second season, and a Cobra Kai season 2 teaser video reveals a familiar set we'll be spending plenty of time at. However, beware of a major spoiler for the end of the first season of Cobra Kai.
Cobra Kai Season 2 Teaser Video
Couldn't make it to #NYCC2018? Don't worry, sensei's got you covered. Check out this exclusive first look from the set of Cobra Kai Season 2. #CobraKai 💪💪 pic.twitter.com/0mlQCwfMX7

— Cobra Kai (@CobraKaiSeries) October 9, 2018
Since Cobra Kai isn't just about reigniting the rivalry between Daniel LaRusso (Ralph Macchio) and Johnny Lawrence (William Zabka), the video features series stars Tanner Buchanan (Johnny's son Robby Keene) and Mary Mouser (Daniel's daughter Samantha) taking us on a tour of the set of the Mr. Miyagi's house, where Daniel takes Robby at the end of the first season after losing the big tournament. However, it's not the exact same set as the original.
As Mouser and Buchanan explain in the video, the original house used for The Karate Kid was sold and ended up getting torn down at some point. So the house was rebuilt for The Karate Kid Part II on the Sony Pictures backlot. But that set ended up being torn down after production was complete on The Karate Kid Part III. So the set had to be rebuilt again, taking elements from the previous iterations of the sets, but adding some new touches here and there, like a new pond in the backyard.
Why are we back at Mr. Miyagi's house if Daniel's karate instructor has passed away? Well, Daniel has apparently kept it in good shape, and he intends to turn it into the Miyagi-Do Dojo, a place where students can learn karate. And it's also a place where Daniel can build a team to take on Cobra Kai, because they have something to prove after losing that tournament.
Speaking of which, Xolo Maridueña (Johnny's student Miguel) and Jacob Bertrand (Miguel's friend and fellow Cobra Kai student Eli "Hawk" Moskowitz) pop up at the end. In a cheesy fashion, they're about to reveal something about the Cobra Kai dojo, but they get cut off to avoid any spoilers. Of course, with Johnny's former instructor John Kreese (Martin Kove) showing up, we already know there's going to be some changes at Cobra Kai, and probably not for the better.
Cobra Kai season 2 doesn't have a release date yet, but it will likely arrive sometime in 2019.