Movie Mixtape: 6 Movies To Watch With 'Bad Times At The El Royale'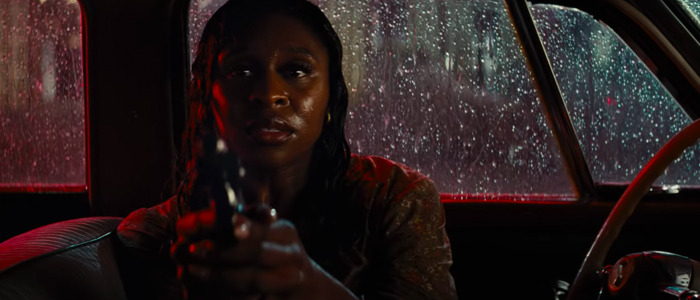 Drew Goddard's Bad Times at the El Royale is a buffet of noir. The music. The language. The location. The lies. The genre is poured on thick as crude oil on a moonless night with a side of extra pulp to chew on.
It's also a follow-up to Cabin in the Woods, so the twists are conveniently layered on top of the turns. The thrilling pastiche stars Jeff Bridges, Cynthia Erivo, Dakota Johnson, and Jon Hamm as mysterious guests at the gimmick hotel on the border between California and Nevada (you can pick which state to sleep in!), spinning fabrications about who they are and what they want during the Great Fall of American Idealism of 1969.
Grab a room key on a giant plastic diamond and let's check out 6 movies with connections to this Royale without cheese.
Four Rooms (1995)
Hell of a night, huh Teddy? With similar chapter headings dividing up the manic goods, this hotel-set anthology tracks some good times at the Mon Signor. Tim Roth stars as a bell hop running a hotel night shift all by himself when four short films groups drive him bonkers with witchy rituals, misbehaving children, bondage fantasies, and a bet involving a hatchet as sharp as the Devil himself.
It's sleaze with a glossy finish. Farce done by punk rock arsonists packing guns and grease in their arsenal. Specifically, it's Robert Rodriguez, Allison Anders, Alexandre Rockwell, and, you already knew it, Quentin Tarantino.
Key Largo (1948)
Back when the El Royale trailer dropped, this is the movie that immediately came to mind.
It was Humphrey Bogart and Lauren Bacall's final team-up. Bogie plays a former Army major visiting the Hotel Largo to see a fallen comrade's widow (played by Bacall) and father (Lionel Barrymore), who owns the hotel. Since it's winter, there are only six guests, and they've all got some shade to them, including one who stays confined to his room. Through a hurricane and a police chase, the ruse of the guests erupts as a gangster story of high crimes, thrilling shifts in loyalty, and Cuban exile for notoriously typecast Edward G. Robinson.
Women in Trouble (2009)
Six women. Six interlocking stories in the grimy hills of Los Angeles. Shot in 10 days on the cheap by writer/director Sebastian Gutierrez, the ensemble flick is a shotgun blast of gorgeous camp.
Carla Gugino makes a meal of every scene as porn superstar Elektra Luxx, who's just discovered she's pregnant before getting trapped in an elevator with Doris (Connie Britton), whose niece is seeing troubled therapist Dr. Maxine McPherson (Sarah Chalke), who backs into porn star Holly Rocket's (Adrienne Palicki) car after learning her husband is cheating on her and while Holly is running away from a gig turned sour with possible escort Bambi (Emmanuelle Chriqui). It's all played for giggles and titillation with a handful of lipstick empowerment that plays like Almodovar Lite. A soap opera where genres collide.
Fear and Loathing in Las Vegas (1998)
It's possible that the American Dream is speeding in a convertible through bat country while firing your handgun into the air, high out of your gourd on whatever your dealer hid in the cactus off route 15.
Fear and Loathing and Bad Times both take place in the same geographical purgatory where California meets Nevada, but they also share the same temporal space when the Summer of Love was definitely over, Nixon was president, and the bums won. Optimism was in short supply, which made it the perfect environment for Hunter S. Thompson's frenetic nihilism to sink its jaws into the hearts of Americans. Terry Gilliam's take on the iconic writer's novel covers a familiar refrain from the former Python: madness as the appropriate response to the national situation.
Manson (1973)
Another token of the era (and one directly connected to Bad Times), the Oscar nominated documentary from Robert Hendrickson and Laurence Merrick used interviews with Charles Manson and his cult members and toured their multiple compound hideouts. Not exactly objective in the Ken Burns sense, the documentary is a stylized trip that's grotesque and, considering it was advertised like a freak show, exploitative.
It's also fascinating beyond belief and profoundly compelling.
Clue (1985)
It's always six strangers, isn't it? Just six. Like that's all the ensemble weight a mystery movie can handle.
Several critics have called Bad Times at the El Royale a send-up of Film Noir, but it's nowhere near the parodic scale of Clue, which also sees a group of six randoms using false names get together in a many-roomed building to spend a precarious night hiding their true intentions. It's a flat out comedy version while Bad Times wants to eat its genre cake and have it, too. That's not a condemnation. Just an observation that this makes a hellacious double feature no matter which ending you prefer.
The Mix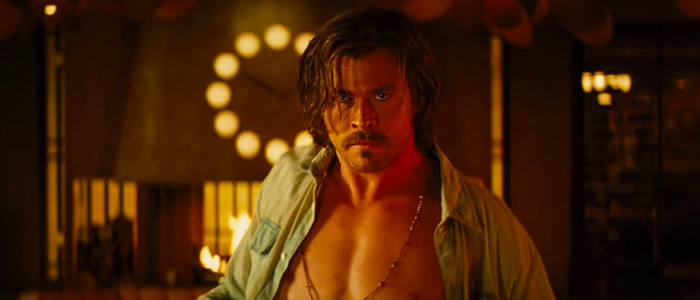 The obvious movie missing from this list is either Pulp Fiction or Kiss Me Deadly (if you want to go back to the movie that inspired Pulp Fiction). The jumps in time and perspective, the organization in chapters, the general feeling of grime all scream Tarantino. Or, to be more reverent, they all nod toward dozens and dozens of titans in the genre at its 1950s height to the point that you'd expect to see Bad Times as a pulp novel complete with a pistol-wielding, strategically naked woman on the cover.
It's dripping Noir. But it's also Neo Noir with more grindhouse and puzzle box than, say, Brick or Looper or any other Rian Johnson reinvention. It's Neo Noir that kept its neon sign glowing and old whiskey from a dirty bottle flowing, reaching back to its velvet-covered roots to expose them. In other words, it's Retro Neo Noir. How's that for meta?
What are you watching with Bad Times at the El Royale?