Class Is In Session For 'Eighth Grade' Screenings At 100 Middle Schools This Fall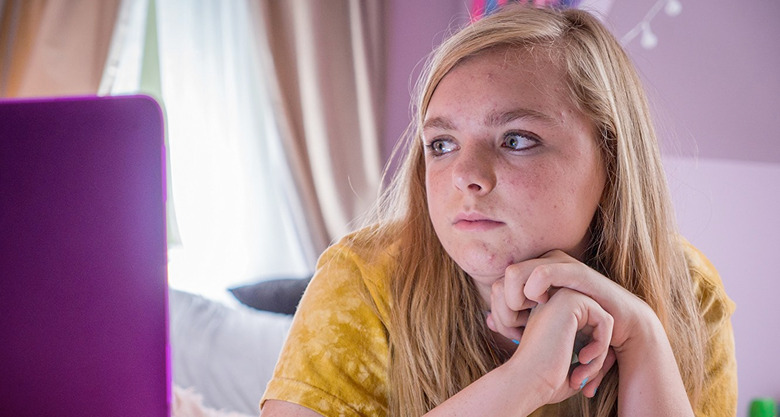 A24 is making school cool again. The indie studio is holding special free screenings for Bo Burnham's acclaimed coming-of-age flick Eighth Grade at 100 middle schools across the country this fall. Now this is the kind of school outreach I could get behind.
Following up A24's August initiative to hold free one-day screenings circumventing the film's R-rating, the indie studio is expanding their outreach to 100 middle schools across the country. Schools across the country can apply at THISIS.EIGHTHGRADE.MOVIE to be one of the Eighth Grade screenings held on the week of October 22, 2018.
In a press release announcing the screening initiative, A24 said:
We're inviting educators to bring Eighth Grade to their classrooms, gymnasiums, and auditoriums so students across the country can experience the film that Rotten Tomatoes calls "exactly what teens need to see right now."
Eighth Grade is an incisive film that I wish I could have seen when I was in middle school. It speaks so accurately to the lonely and awkward experience  of those years that it sometimes plays like a horror film — I remember a few scenes so cringeworthy that I had to watch through my fingers. But the film is raw, authentic and oh so powerful. A24 realizes the influence that Burnham's film could play on young minds going through this exact experience, and have smartly pushed young teenagers to watch this film, despite the nonsensical R-rating. The film kickstart important conversations about body image, identity, and sexual consent — more so than any PSA video shown in health class.
In a promo video accompanying this initiative, A24 honed in on those eighth graders they're trying to reach and the educators who sometimes struggle to cross that divide with this generation.
Eighth Grade Screenings Promo
Eighth Grade is currently available to purchase on digital and Blu-ray, but I hope that school teachers and administrators will be equally assertive in showing this coming-of-age film to their students. Maybe this time they'll listen during health class.