'Ink & Paint' Documentary Series About Female Disney Animators Coming To Disney's Streaming Service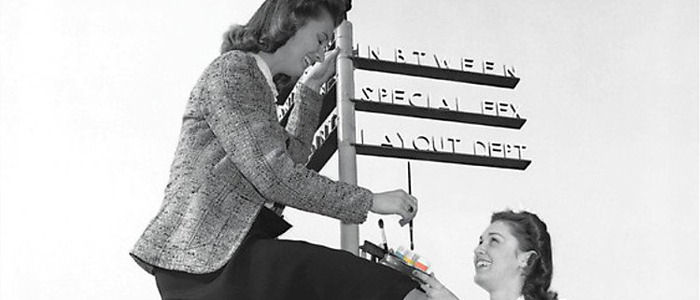 Disney needs content for its upcoming streaming service Disney Play, and considering Disney is a company that's built a reputation for self-mythologizing, it's no surprise that one of Disney Play's new projects will focus on some Disney history. One of the pieces of content that will be available to watch when the service launches next year is an eight-episode documentary series called Ink & Paint (not to be confused with the nightclub of the same name in Who Framed Roger Rabbit). The show tells the untold story of the often-overlooked female employees who contributed to the magic of Walt Disney's animation empire.
According to Deadline, ABC Studios will produce Ink & Paint, which "tells the story of animation at Disney, from Snow White and the Seven Dwarfs to Coco and Moana, through the prism of an unsung workforce of trailblazing women who helped create some of the greatest animated movies of all time." The show is based on Mindy Johnson's 2017 book Ink & Paint: The Women of Walt Disney's Animation, which "redefines the collective history of animation" through its detailed interviews, firsthand accounts, and archival research.
Deadline compares the project to Hidden Figures, the successful 2017 film which told the untold story of a handful of key women who were instrumental in the success of NASA's rocket launches, and that seems like a spot-on comparison. And while the real-life women who provided the inspiration for Hidden Figures graced the Oscars stage recently, Ink & Paint has its own veterans up its sleeve: the production just conducted an interview with the 108-year-old Ruthie Thompson, who began her career as a cel cleaner at Disney Animation way back in 1937 before rising through the ranks to eventually become a supervising scene planner.
Ink & Paint refers to the method of illustration and animation in which Disney employees (often women) would trace the pencilled lines of (often male) animators in black ink for each animation cel and then send them off to a paint department, where artists would fill the black-and-white pieces with vibrant colors.
It's also worth noting that there was a Disney Channel series in the late 1990s called The Ink & Paint Club, which consisted of a handful of animated short films strung together by a common theme. Here's the intro, in case you're looking for a quick nostalgia blast:
The eight-part Ink & Paint documentary series is intended to be ready to premiere when Disney Play debuts in late 2019.