Movie Maniacs Action Figures From McFarlane Toys Are Coming Back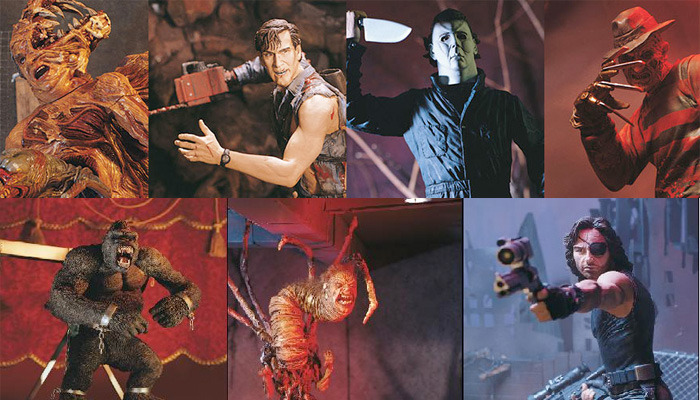 Today's toy collectors are spoiled with tons of different options when it comes to finding your favorite characters from film in the form of a detailed and accurate action figure. But there was a time when McFarlane Toys was one of the few companies making these toys for adult collectors. And now they're bringing back one of their most beloved toy lines for fans to enjoy once again: Movie Maniacs.
If you don't know about the McFarlane Toys Movie Maniacs action figures, find out more below.
Movie Maniacs was an action figure line from McFarlane Toys that made detailed action figures from motion pictures. At first, they started with horror icons from Halloween, A Nightmare on Elm Street, Texas Chainsaw Massacre and Friday the 13th. But then they expanded into films like RoboCop, Edwards Scissorhands, Escape from L.A., Predator, King Kong and even the remake of Shaft.
As you can see from the photos above, these were detailed figures that came with incredible accessories, and most even came with a cool miniposter stand, apparently for those who had no idea what action figure they were looking at. Since then, the toy manufacturer NECA has picked up most of the licenses for the figures from the Movie Maniacs line. In fact, ToyArk points out that several employees who worked on the Movie Maniacs line at McFarlane ended up going to NECA to work on figures.
So what kind of Movie Maniacs figures are we going to get? With most of the licenses that McFarlane used to have now situated over at NECA, it seems like we'll probably get a whole new line of figures from film.
If they're going to stick with the predominant horror focus, maybe horrors from The Babadook, The Witch, Krampus or the various demons from Insidious and The Conjuring would make good figures. On the slasher side maybe killers from Saw, The Strangers, Kill List and Hell Fest could be considered. There are also monsters from Cabin in the Woods, A Quiet Place, The Host, The Mist or Attack that Block that would make great additions.
What would you like to see turned into Movie Maniacs figures?