'3Below' Trailer: Guillermo Del Toro's 'Tales Of Arcadia' Continues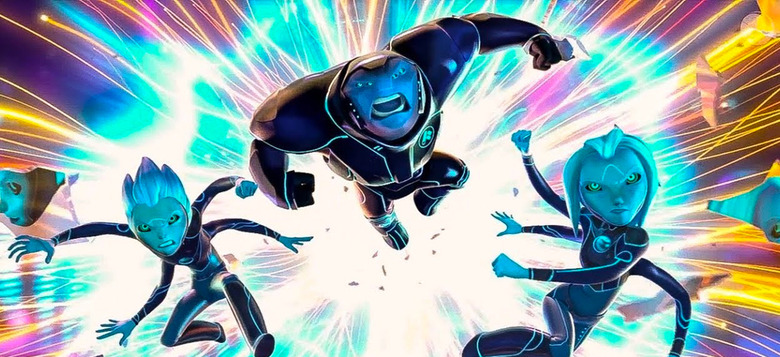 Guillermo del Toro has revealed footage from the second chapter in his animated Tales of Arcadia trilogy: 3Below, a story of aliens who crash-land in the familiar town of Arcadia. Featuring the voice talents of Glenn Close, Nick Offerman, Andy Garcia, Nick Frost and more, the animated series arrives on Netflix in December. Watch the 3Below trailer below, and learn more about the show. 
3Below Trailer
If you're wondering what Academy Award Winning director Guillermo del Toro has been up to, look no further than Netflix. The filmmaker continues to work on his animated Tales of Arcadia series. Trollhunters kicked things off, and now here comes chapter 2: 3Below. During New York Comic Con, del Toro debuted the first trailer for the series, which you can see above. He also revealed the full voice cast Diego Luna, Glenn Close, Tatiana Maslany, Nick Offerman, Andy Garcia, Nick Frost, Alon Aboutboul, Chris Obi, Uzo Aduba, Cheryl Hines, Tom Kenny, Haley Atwell, Danny Trejo, and Ann Dowd. Returning Trollhunters voice cast includes Emile Hirsch, Charlie Saxton, Lexi Medrano, Steven Yeun, Cole Sands, Kelsey Grammer, and more.
Viewers can expect to see "several familiar faces" from Trollhunters in the show, which follows "two royal teenage aliens, and their bodyguard" as they "flee a surprise takeover of their home planet by an evil dictator and crash land in Arcadia. Now on the run from intergalactic bounty hunters, they struggle to blend in and adapt to the bizarre world of high school all the while attempting to repair their ship so they can return and defend their home planet."
The third entry in the Tales of the Arcadia series is called Wizards, which will "bring together the worlds of trolls, aliens and wizards who are all hiding out in Arcadia. This final chapter of the Tales of Arcadia Trilogy will involve an apocalyptic battle for the control of magic – a battle that will determine the fate of the various supernatural worlds established throughout the trilogy."
If you've been following Tales of Arcadia, this is all no doubt exciting to you. I, however, have never felt the urge to watch the series. I'm holding out for del Toro's . next live-action directorial effort, whenever that shall arrive. It might not be a while – the filmmaker is currently focused on producing films like Scary Stories to Tell in the Dark and Antlers.
3Below will be streaming exclusively on Netflix December 21, 2018.