'Sorry To Bother You' Almost Starred Jordan Peele, Donald Glover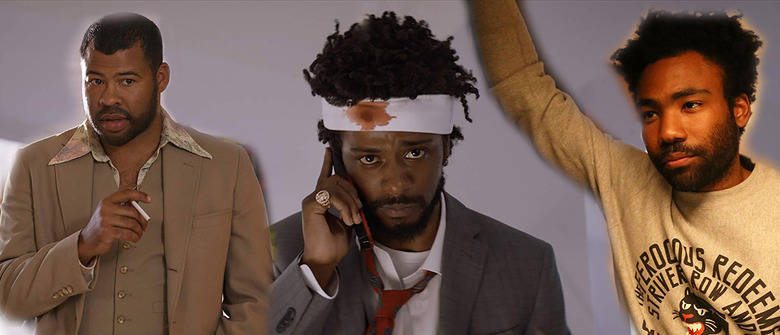 LaKeith Stanfield has had a breakout year, following up his scene-stealing role in FX's Atlanta with another standout performance as the lead in Boots Riley's indie hit Sorry to Bother You. But while Sorry to Bother You set Stanfield on an upward trajectory in Hollywood, that almost wasn't the case. Riley revealed that Jordan Peele and Donald Glover almost landed the role of the telemarketer with an uncanny "white voice." But in the end, it turned out fine for all three of them — Peele and Glover had pretty great years, too.
In an interview with Vulture, Riley revealed that Peele and Glover were both on the short list for the lead role in Sorry to Bother You. Because it was his debut feature, Riley needed a big name to get the movie financed, and the first name to come up was Peele, who was coming off the success of Comedy Central's Key and Peele sketch show. But then, Get Out was released:
"The first person of note that was helping us get financing, who said they wanted to play the lead was actually Jordan Peele. Then he directed Get Out and was like, 'I don't want to act anymore.' The next person was Donald Glover, and he said, 'But I might get this job in Star Wars, and maybe you can wait until after that and after Atlanta season two.' I was like, 'We don't know what's going to happen to the money by then.'"
Both Peele and Glover rocketed to fame in their respective fields in the time it took for Sorry to Bother You to get into production, making great progress for the black community, but making it harder for Riley to cast the role of Cassius. "If you are to imagine a certain actor playing a role, probably there's a very narrow breadth, even with great actors," Riley said.
Riley ended up getting the dial tone from both Peele and Glover. But soon, the director's phone rang again, Riley said: "Ten minutes after he hung up the phone, Lakeith's manager called me, saying, 'You need to meet with Lakeith.'"
And thus, we got three great years for three great actors.