Exclusive 'Skyscraper' Clip Reveals An Extended Opening Scene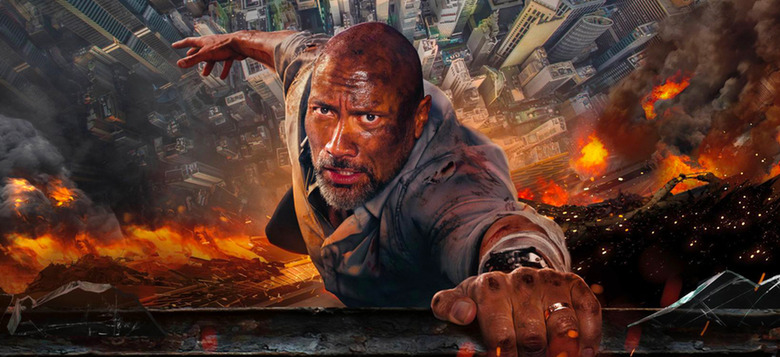 Skyscraper, the movie where Dwayne "The Rock" Johnson fights a building, hits Blu-ray this week. To celebrate, we're bringing you an exclusive Skyscraper clip featuring an extended opening sequence from the film. Here, Johnson and co-star Pablo Schreiber end up in a tense hostage negotiation scene at a farmhouse. Things don't go so well. Watch the Skyscraper clip below.
Skyscraper Clip
Skyscraper is the latest action extravaganza featuring Dwayne "The Rock" Johnson. Once again, the Rock is a family man facing dangerous, CGI-enhanced mayhem to rescue those he cares about. Johnson plays "former FBI Hostage Team leader, U.S. war veteran and amputee Will Sawyer. While on assignment in Hong Kong as an assessor for security in skyscrapers, he comes to find the tallest and safest building in the world suddenly ablaze, and he has been framed for it. Wanted and on the run, Will must find those responsible, clear his name and save his family who is trapped inside the building... above the fire line."
The clip above comes from the Skyscraper Blu-ray, which hits shelves this week on October 9, 2018. And as an added bonus, here's the same clip, with director commentary from Rawson Marshall Thurber.
Skyscraper Clip With Commentary 
A full list of features available on the disc can be seen below.
BONUS FEATURES ON DVD, 4K ULTRA HD, BLU-RAYTM & DIGITAL:
Deleted Scenes with Commentary by Director Rawson Marshall Thurber – Go behind the scenes with Dwayne Johnson and the rest of the cast of Skyscraper.
Extended Scenes with Commentary by Director Rawson Marshall Thurber
Dwayne Johnson: Embodying a Hero – Go behind the scenes to see what it took for Dwayne Johnson to bring the intense character of Will Sawyer to life.
Inspiration – Meet real life amputee and motivational speaker Jeff Glasbrenner, the inspiration for Dwayne Johnson's role of Will Sawyer. See how Jeff's consultations helped inform Dwayne's character from day one.
Opposing Forces – There's no holding back as the women of Skyscraper get in on the action. Now, see first-hand what it took for Neve Campbell and Hannah Quinlivan to be fight ready.
Friends No More – When Dwayne Johnson and Pablo Schreiber met face to face, they immediately knew what they were up against. Witness first-hand the making of the intense apartment fight between two former on-screen friends, Will and Ben.
Kids in Action – In Skyscraper everyone gets in on the action, even the Sawyer children. Go on set with Noah Cottrell and McKenna Roberts to discover the moves behind their stunts.
Pineapple Pitch – Hear first-hand from Dwayne Johnson how writer/director Rawson Marshall Thurber pitched him the idea of Skyscraper. It may be a little fruitier than you think.
Feature Commentary by Director Rawson Marshall Thurber