'Venom' Makes A $10 Million Killing At Thursday Box Office, 'A Star Is Born' Sings With $4.6 Million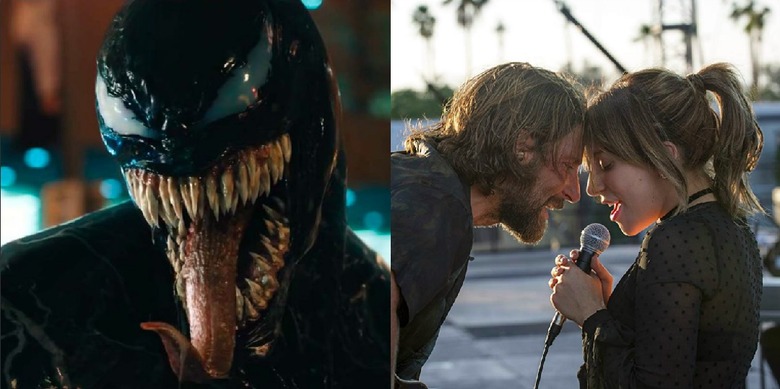 Venom is proving to be the opposite of box office poison. The Sony comic book movie just clocked a record-shattering Thursday night opening, raking a whopping $10 million in 3,543 locations. That makes Venom the best Thursday night preview in October of all time, beating out Paranormal Activity 3's $8 million record.
But Venom wasn't the only box office star at the Thursday night previews. Bradley Cooper's directorial debut A Star is Born hit some box office high notes, pulling in $4.6 million at over 3,200 theaters.
Despite near-universally bad reviews that landed Venom with a lethal 30% rating on Rotten Tomatoes, the Spider-Man-less Spider-Man spin-off is making a killing at the box office. Deadline reports that Sony has logged $10 million for Venom's Thursday night previews, making the comic book movie the best preview night opener for October.
The massive opening is a promising start for Venom, which Deadline notes is on par with the preview night opening that Spider-Man 3 scored in 2007. The outlet writes:
Venom's $10M is on par with the preview cash that Sony minted for Spider-Man 3 which went on to do a $59.8M opening day and $151.1M weekend. It's also higher than Doctor Strange's $9.4M Thursday which translated into a $32.5M opening day and $85M opening.
However, these numbers should be taken with a grain of salt (or a grain of symbiote?). Warner Bros.' 2017 blockbuster Justice League was forecasted to do between $110 million-$120 million but ended up crashing upon arrival with a $93.8 million opening. Justice League was perhaps the first sign that superhero movies aren't critic-proof — slowed down by a 40% Rotten Tomatoes score.
But this year, Warner Bros. could see a hit with the remake of A Star is Born. The Bradley Cooper, Lady Gaga-fronted musical opened to $4.55 million at previews, making $3.2 million Thursday night and $1.35 million over Tuesday and Wednesday previews. And you expect those numbers to rise as the movie's older female audience demographic heads to the remake in droves. That demographic helped boost Mamma Mia: Here We Go Again from a $3.4 million Thursday night to a $120 million total gross.
But we'll have to wait until Monday box office returns are released to find out which film will emerge as the real star of this weekend at the movies.