Trailer Roundup: 'My Dinner With Herve', 'Bigger', 'Black Monday', 'Never-Ending Man', 'Wayne', 'The Curious Creations Of Christine McConnell', 'Molly'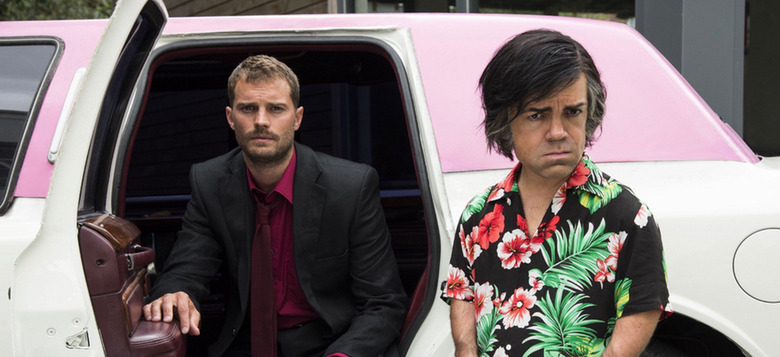 We often give entire posts to trailers for big movies. But every now and then, a few smaller trailers slip through the cracks. That's where a trailer roundup comes in handy. Here is where we compile movie and TV trailers for titles under the radar, because every title deserves a little love. Below you'll see trailers for the HBO movie My Dinner with Herve, the biopic Bigger, the Showtime series Black Monday, the Hayao Miyazak documentary Never-Ending Man, YouTube series Wayne, Netflix baking series The Curious Creations of Christine McConnell, and low-budget sci-fi flick Molly.
My Dinner with Herve
In My Dinner with Herve, Game of Thrones' Peter Dinklage plays actor Hervé Villechaize, most-famous for his work on Fantasy Island. The film is based on the true story of Villechaize's last days, in which he conducted an interview with journalist Sacha Gervasi. Appropriately enough, Gervasi is the one directing this film, which he spent several years trying to get made. In My Dinner with Herve, "an unlikely friendship evolves over one wild night in LA between a struggling journalist (Jamie Dornan, playing a fictionalized version of Gervasi) and actor Hervé Villechaize, resulting in life-changing consequences for both." This looks like an interesting, and mostly unknown, story, so it's definitely worth checking out. Which you can on October 20, when My Dinner with Herve premieres on HBO.
Bigger
You know who Arnold Schwarzenegger is, right? But are you as familiar with Joe and Ben Weider? The brothers were the founders of the International Federation of BodyBuilding & Fitness, and helped discover Arnold. Bigger proposes to tell their story, and I have to say: the guy playing Schwarzenegger here really looks like him (although he appears to be mostly a background character). I'll admit I've never heard of this movie, but this is a fairly effective trailer. Bigger is directed by George Gallo, and has a cast that includes Tyler Hoechlin, Aneurin Barnard, Julianne Hough, Victoria Justice, Colton Haynes, Max Martini, Tom Arnold, Steve Guttenberg, DJ Qualls, with Kevin Durand, and Robert Forster. The film opens October 12. Here's the synopsis:
The inspirational tale of the grandfathers of fitness as we now know it, Joe and Ben Weider. Facing anti-Semitism and extreme poverty, the brothers beat all odds to build an empire and inspire future generations.
Black Monday
Don Cheadle has a new Showtime series about the stock market crash of 1987, and it looks good! This is more of a music video than a trailer – there's no dialogue, or even story beats. But Black Monday appears to really be nailing the '80s look, from the fashion, to the hair, to the graffiti-covered subway cars. Black Monday is described as "the story of how a group of outsiders took on the blue-blood, old-boys club of Wall Street and ended up crashing the world's largest financial system, a Lamborghini limousine and the glass ceiling." Andrew Rannells and Regina Hall star alongside Cheadle. Look for the show on Showtime in January.
Never-Ending Man
The documentary Never-Ending Man: Hayao Miyazaki follows legendary director and animator Hayao Miyazaki as he experiments with CGI for the first time. The Studio Ghibli retired at age 72, but "he couldn't shake his burning desire to create. After an encounter with young CGI animators, Miyazaki embarked on a new endeavor, his first project ever to utilize CGI. But the artist, who had been adamant about hand-drawn animation, confronted many challenges. The film even faces the danger of being cancelled. Can an old master who thinks he's past his prime shine once again? This program goes behind the scenes over two years as Miyazaki overcomes struggles to create his short film using CGI." The narration in this trailer is a bit weird, but otherwise, this looks fascinating. Never-Ending Man: Hayao Miyazaki arrives in Winter 2018.
Wayne
Deadpool writers Rheese Rees and Paul Wernick are the minds behindWayne, a new YouTube Originals series. Described as a " ritty and sometimes bloody tale", Wayne follows "fifteen year-old Wayne sets out on a dirt bike with his new crush Del to take back the 1978 Pontiac Trans Am that was stolen from his father before he died." I've yet to watch any YouTube shows, even though I hear good things about Cobra Kai. That series was a big hit for YouTube – will Wayne follow in its footsteps? Hard to tell, as this looks much more nihilistic and unpleasant. Wayne arrives in January 2019.
The Curious Creations of Christine McConnell
The Curious Creations of Christine McConnell doesn't look like your average baking show. Instead, Christine McConnell spends her time whipping up creepy creations – with the help of...puppets? This looks like Pee-Wee's Playhouse meets The Addams Family, and that might just be worth checking out. And hey – the show is arriving just in time for Halloween season on October 12.
Wickedly talented baker and artist, Christine McConnell welcomes you into her terrifyingly delicious home to create delectable confections and hauntingly disturbing decor with the help of her colorful collection of creatures.
Molly
Above you have not one, but two trailers for Molly, which looks a little like the indie sci-fi comedy Turbo Kid, in that it's embracing its low-budget nature to tell a deliberately goofy tale of a post-apocalyptic wasteland. Molly (Julia Batelaan), "a super-powered young woman, roams the violent post-apocalyptic landscape, armed only with a bow and arrow, to confront the dangers around her. When a sadistic ringmaster who run an underground fight club hears of her supernatural abilities he sends his sociopathic marauders to capture her and make her a star attraction in his cage fights to the death." Look for the film on October 2.