Advance 'Halloween' Tickets On Sale Now, Includes Free Download Sample Of The New Score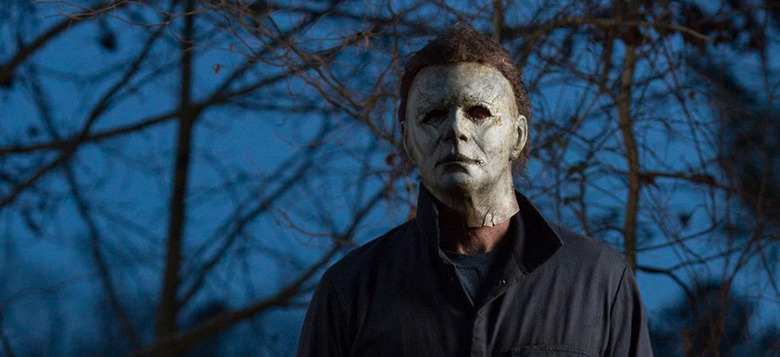 No trick here, just a treat: Halloween tickets are now on sale. David Gordon Green's sequel/reboot of John Carpenter's classic doesn't arrive in theaters for a few more weeks, but if you're itching to get your hands on advance tickets, now is your chance. Buy your tickets now, and then eat a big bowl of candy corn every day until it's time to see the film!
Fandango is now selling advance Halloween tickets right here, and you'd be wise to grab them. Why? Because the movie is going to be big. Early box office tracking indicates an opening weekend haul higher than any other Halloween movie before. And Fandango says the film was voted "the single most anticipated horror movie of the fall season. (With The Predator and The Nun – remember those movies? – at number #2 and #3). And here's an added bonus: if you order tickets through Fandango, you'll receive a free audio download of the "Halloween Theme" from the Halloween Original Motion Picture Soundtrack by John Carpenter, Cody Carpenter, and Daniel Davies (full soundtrack available October 19 on Sacred Bones Records).
In honor of the advance ticket sales, director David Gordon Green sat down with Fandango to discuss his new take on the classic franchise. "To me, it was an opportunity to make something that was very personal on one level, but also it appealed to me because I'm kind of self indulgent in that way," Green said, adding:
"But I'm a huge Halloween fan and grew up with the films. It also had what I knew would be a universal appeal. It's always been a struggle through my career to try to find something that makes me happy [and] that an audience also responds to...when Jason Blum sent me an email that literally just said "Halloween?", somehow I knew what he meant, and I knew I was going to do it, and I was chomping at the bit. It didn't take long before Danny McBride and I had some ideas, and we said, we want to go to [John] Carpenter with them. We want to go to Jamie Lee with them, and we want to make this an old school movie in a new way."
I saw Halloween last month at TIFF, and I haven't stopped thinking about it since. Is it as good as John Carpenter's classic? No, it's not – but what film is? While Green's take on the story is different, he still pays loving tribute to the franchise as a whole. And he manages to make Michael Myers scary again, as I said in my review:
"Here is where Halloween is most successful: it makes Michael Myers scary again. The masked killer is utterly inhuman here – he doesn't just kill people, he destroys them. Heads are smashed against walls, knives are thrust through throats, skulls are stomped like rotten Jack-o'-lanterns. Halloween earns its R rating, and then some. Previous Halloween sequels were plenty violent, but none of that former violence was as brutal, and as primal, as it is here."
Halloween opens on October 19, 2018.