'Overlord' Trailer: Get Ready For A Bloody Battle With Nazi Zombies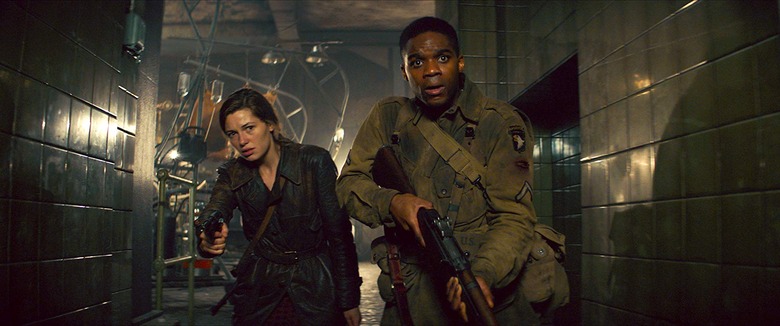 Paramount Pictures has released the final trailer for Overlord, the highly anticipated Nazi zombie movie from Bad Robot that received bloody good reviews when it debuted at Fantastic Fest last month. And the final trailer for Overlord lives up to that praise, delivering even more gore and body horror.
Overlord Trailer
The final trailer for Overlord wastes no time on set-up — it knows that all you want to see is Nazi zombies getting set on fire. And as brief as this trailer is, clocking in at less than a minute, there's more gore here than in an episode of The Walking Dead.
The frenetic trailer shows the team of American paratroopers, played by Jovan Adepo, John Magaro, Wyatt Russell and Iain DeCaestecker, who discover a mysterious Nazi lab beneath a church in a Nazi-occupied French village. But once one of the soldiers (DeCaestecker) gets killed, the soldiers on a whim use one of the experimental drugs to bring him back. But they may have brought back more than they could handle. At least, that's what I could glean from this chaotic trailer, which cycles through scenes of gore and dismemberment faster than you can say "Nazi zombies." But according to our reviews out of Fantastic Fest, that seems to be a pretty accurate representation of the movie itself.
Overlord is a "wild B-movie romp polished with Bad Robot shine," /Film's Jacob Hall declares in his Fantastic Fest rundown, calling the film "a hoot" and "exploitation hiding in the skin of a 'real' movie and that's part of its giddy, gory charm." Meanwhile, /Film's Matt Donato praises Overlord to high hell in his Fantastic Fest review, gushing, "For a movie that promises Nazi mad scientists and their creations lurking the halls of some creeptacular abandoned church, Overlord packs a superhuman punch that'll leave a gaping cavity in your chest."
Here is the official synopsis for Overlord:
With only hours until D-Day, a team of American paratroopers (Jovan Adepo, John Magaro, Wyatt Russell, Iain DeCaestecker) drop into Nazi-occupied France to carry out a mission that's crucial to the invasion's success. Tasked with destroying a radio transmitter atop a fortified church, the desperate soldiers join forces with a young French villager to penetrate the walls and take down the tower. But, in a mysterious Nazi lab beneath the church, the outnumbered G.I.s come face-to-face with enemies unlike any the world has ever seen. From producer J.J. Abrams, Overlord is a thrilling, pulse-pounding action adventure with a twist.
Overlord opens in theaters on November 9, 2018.