'Mortal Engines' Trailer: Peter Jackson Presents A New Adventure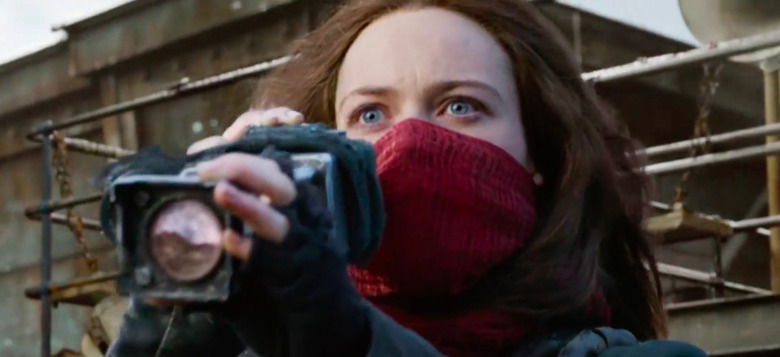 There was a period there where YA movie adaptations were abundant – and the majority of them were disappointing. The trend has died down a bit, but it isn't gone completely. Case in point: Mortal Engines is the latest film to bring a YA series to life. The movie is set in a post-apocalyptic world where "entire cities have been mounted on wheels and motorized, and prey on one another." That sounds pretty darn cool. And it looks cool, too. See for yourself by watching the new Mortal Engines trailer below.
Mortal Engines Trailer
Christian Rivers helms Mortal Engines, with a script from the Lord of the Rings team of Fran Walsh, Philippa Boyens, and Peter Jackson. Walsh, Boyens and Jackson turned Lord of the Rings into one of the best film trilogies of all time (let's just ignore the Hobbit films), so having them involved with this project is promising. Our own Jacob Hall visited the set of Mortal Engines last year, and was very impressed with what he saw, writing: "Mortal Engines looks be less of a direct adaptation of the book and more of a wider and wilder exploration of the source material's thrilling world-building. And that is very exciting."
I haven't read the Mortal Engines books by Philip Reeve, but I love the idea of entire cities mounted on wheels – that's crazy enough to make an impression. Who knows – this might turn out to be one hell of a film series. And Jackson and company definitely want it to be a series. "This is one movie that I hope is successful enough that we get to do the other stories because the other books are really...I mean, it just gets...you know, this story mushrooms in such unexpected ways in the future books. So, I really hope we get to make those films," Jackson said.
I definitely like what I'm seeing here. I tend to avoid most YA adaptations, but I'll definitely be checking this one out.
Mortal Engines, starring Hugo Weaving, Hera Hilmar, Robert Sheehan, Jihae, Ronan Raftery, Leila George, Patrick Malahide, and Stephen Lang, opens December 14, 2018.
Hundreds of years after civilization was destroyed by a cataclysmic event, a mysterious young woman, Hester Shaw (Hera Hilmar), emerges as the only one who can stop London — now a giant, predator city on wheels — from devouring everything in its path. Feral, and fiercely driven by the memory of her mother, Hester joins forces with Tom Natsworthy (Robert Sheehan), an outcast from London, along with Anna Fang (Jihae), a dangerous outlaw with a bounty on her head.