'Aquaman' Trailer: A Tide Is Coming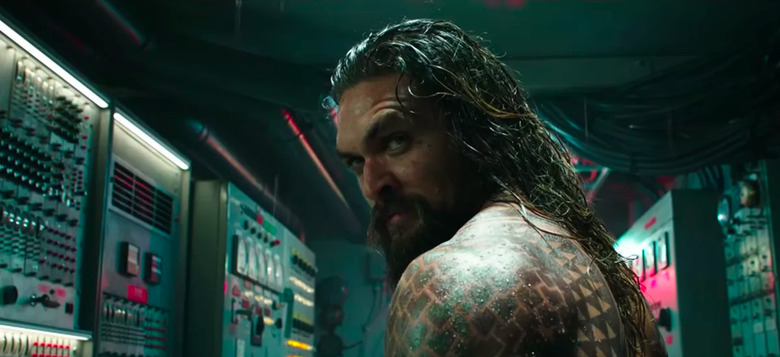 A new Aquaman trailer has washed ashore! Are you ready for more undersea action? More scenes of Jason Momoa without a shirt? More shots of Amber Heard's questionable wig? We've got all that, and more! James Wan helms the superhero flick, which finds Arthur Curry, aka Aquman, torn between the surface and underwater worlds. Watch the Aquaman trailer below.
Aquaman Trailer 
I really want to like Aquaman. I'm a big fan of James Wan's work, and I think Jason Momoa's sort-of-dumb, super-bro Aquaman has potential. But everything I've seen of the film has been a bit underwhelming. The footage shown at Comic-Con had its moments – Nicole Kidman kicking a bunch of ass is promising – but the tone was a bit all over the place. You can tell Wan and company really want this film to be fun, as it should be. But something about that fun clashes with everything else going on here. Perhaps it'll work better in the final film.
"'You're making a movie about Aquaman!' He talks to fish and stuff like that," Wan said during a /Film edit bay visit. "You gotta lean into that. You gotta not be afraid of the camp of it all, but the key is try and make it cool, right? The key is to try and make it something that you can kind of smile at it, but then kind of go, 'Oh, that's kind of fun. That's awesome!' That is my job to try and take what collectively we all know from pop culture, the lamest superhero, and have fun with him and make him the freakin' coolest superhero I can. That's my dream. My dream is to make him cooler than Batman and Superman, so that's just me."
In addition to Momoa as Aquaman/Arthur Curry, the movie features Amber Heard as Mera,"a fierce warrior and Aquaman's ally throughout his journey"; Willem Dafoe as Vulko, "council to the Atlantean throne"; Patrick Wilson as Orm/Ocean Master, "the present King of Atlantis"; Dolph Lundgren as "Nereus, King of the Atlantean tribe Xebel"; Yahya Abdul-Mateen II as "the vengeful Black Manta"; and Nicole Kidman as "Arthur's mom, Atlanna."
Aquaman makes waves December 21, 2018.
From Warner Bros. Pictures and director James Wan comes an action-packed adventure that spans the vast, visually breathtaking underwater world of the seven seas, "Aquaman," starring Jason Momoa in the title role. The film reveals the origin story of half-human, half-Atlantean Arthur Curry and takes him on the journey of his lifetime—one that will not only force him to face who he really is, but to discover if he is worthy of who he was born to be...a king.