That 'Deathstroke' Movie From Gareth Evans Probably Isn't Happening Now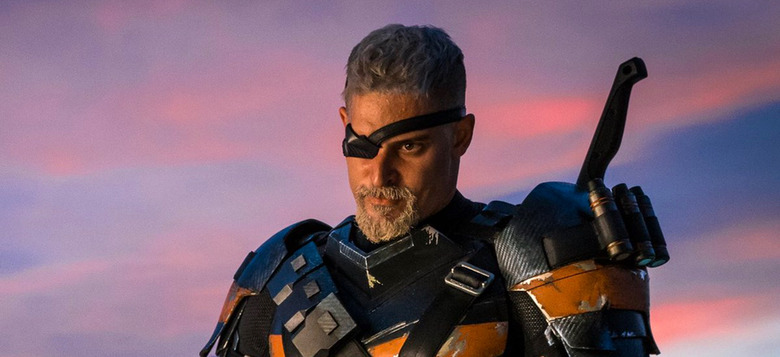 Hopefully you weren't looking forward to that Gareth Evans directed Deathstroke movie, because it's not happening. At least, not anytime soon. Evans revealed that the film, which was set to star Joe Manganiello, is dormant, and has been for quite some time. That's not to say Deathstroke won't star in his own adventure sometime in the future. Just don't hold your breath.
Remember this post-credit scene from Justice League? I'm sure you do. Who could forget a single frame from that film?
Deathstroke!
Joe Manganiello's Deathstroke shows up and has a few words with Jesse Eisenberg's Lex Luthor. The plan, at the time at least, was for an entire Deathstroke film, directed by The Raid filmmaker Gareth Evans, but so far, nothing has come of it. Evans is out doing promotion for his brutal Netflix horror film Apostle, so ComicBook decided to seize the opportunity and ask: just what the heck is going on with the Deathstroke movie? Evans' answer? Nothing.
"Nothing really went beyond [early conversations]," Evans said. "I haven't heard anything for a really long time." Evans then added:
"To be honest, every time I see an article written I keep wanting to ask, 'Okay, what is it you guys know that I don't know?' Because I haven't heard anything for a good while yet. So I don't know if that will ever come back full circle at some point. But I know I haven't had any conversation about that project for a long time now."
I can't say I'm very surprised about this news. Deathstroke was part of the old DCEU, which is in a kind of limbo right now. After Batman v. Superman, Suicide Squad and Justice League failed to generate much positive reaction, Warner Bros. and DC are retooling things. That's not to say the DCEU is dead, of course. Aquaman is arriving at the end of the year. And in 2019, Shazam! and Wonder Woman 1984, both technically DCEU films, will hit theaters. But Aquaman and Shazam! were already in a state of development, and Wonder Woman was the only really positively received DCEU film, which made its sequel inevitable. Everything else, though, is likely now on the back-burner. Birds of Prey is currently in development, which will feature Suicide Squad's Harley Quinn, but will likely have little connection to the DCEU as we previously knew it. And then there's the standalone Joker movie with Joaquin Phoenix, which isn't connected to the DCEU at all.
In short: Deathstroke is probably dead, which is a shame. But hey, we'll always have that beautiful, brief moment where the character got to talk to Lex Luthor on a yacht for a few minutes.