'Birds Of Prey' Cast Adds Rosie Perez As Renee Montoya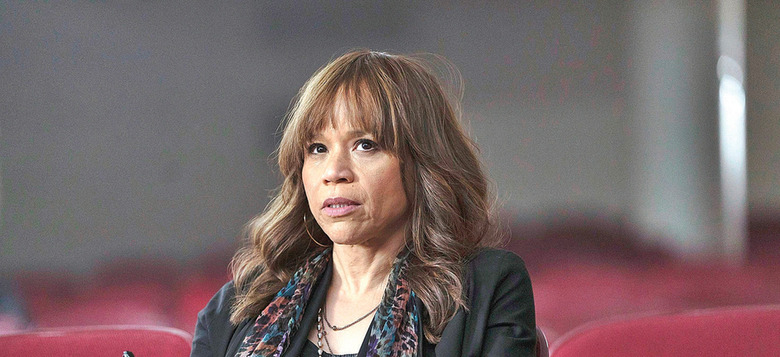 The Birds of Prey cast has found its Detective Renee Montoya. Academy Award nominee Rosie Perez will play the role, joining a cast that includes Margot Robbie, Jurnee Smollett-Bell and Mary Elizabeth Winstead. The female-driven superhero film will be helmed by Cathy Yan, and is due out in 2020. More on the Birds of Prey cast below.
The Wrap has the news about Rosie Perez landing the role of Renee Montoya. Like Birds of Prey character Harley Quinn, Montoya was originally created for Batman: The Animated Series before being adopted into the world of comics. Over the years, she's evolved considerably, and is one of the few openly LGBT characters in superhero comics: in the series Gotham Central, the character is revealed to be a lesbian. Over time, she became the costumed character The Question.
Perez now joins Margot Robbie, who will once again play Harley Quinn; Jurnee Smollett-Bell as Black Canary, a hero with an ultrasonic scream; and Mary Elizabeth Winstead as Huntress, a vigilante character who is the daughter of a slain mob boss. Other parts waiting to be cast include Cassandra Cain, one of the many Batgirls who is being reimagined as a 12-year-old in the film; and Black Mask, the movie's villain. Ewan McGregor and Sharlto Copley are both being considered for the latter part.
Perez's breakout role was in Spike Lee's 1989 Do the Right Thing. She's also appeared in Fearless, for which she was nominated for the Academy Award for Best Supporting Actress. Other prominent roles include White Men Can't Jump, It Could Happen to You, The Road to El Dorado, and many more. She was recently seen on the TV series Rise. Perez may not be the most obvious choice for a superhero movie, and that's what makes this casting particularly interesting.
Cathy Yan will helm Birds of Prey, with a script from Christina Hodson, who is also writing the Batgirl movie (Batgirl is reportedly not appearing Birds of Prey, even though she's a fixture of the Birds of Prey comic).Birds of Prey – which is currently going under the working title Untitled Girl Gang Movie, even though we all know they're just going to end up calling it Birds of Prey – is just one of several DC-related projects on the horizon from Warner Bros. Before 2018 ends, Aquaman will wash up in theaters. Then, in 2019, Shazam!, Wonder Woman 1984 and the Joaquin Phoenix Joker movie will arrive. And I guess sooner or later they'll make Suicide Squad 2, although I'm not sure anyone really wants to see that.Birds of Prey hits theaters February 7, 2020.