'Hobbs And Shaw' First Look: Dwayne Johnson And Jason Statham Have A Staring Contest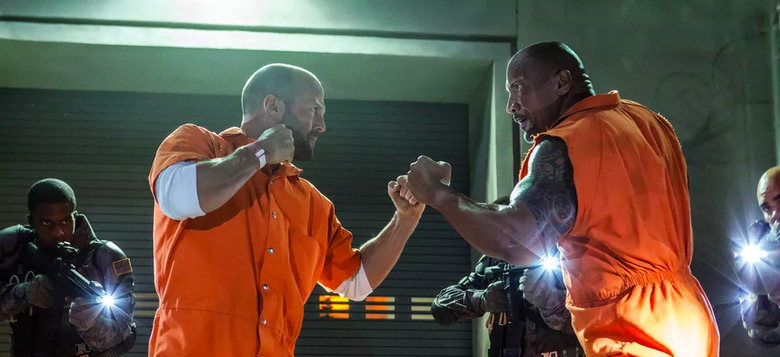 Dwayne "The Rock" Johnson took to Instagram to offer up the first official look at Hobbs and Shaw, the Fast and Furious spin-off featuring two of the franchise's many bald characters. The film directly spins-off from The Fate of the Furious, and finds Johnson's US Diplomatic Security Agent Luke Hobbs forming an unlikely alliance with Jason Statham's criminal character Deckard Shaw. See the Hobbs and Shaw first look below!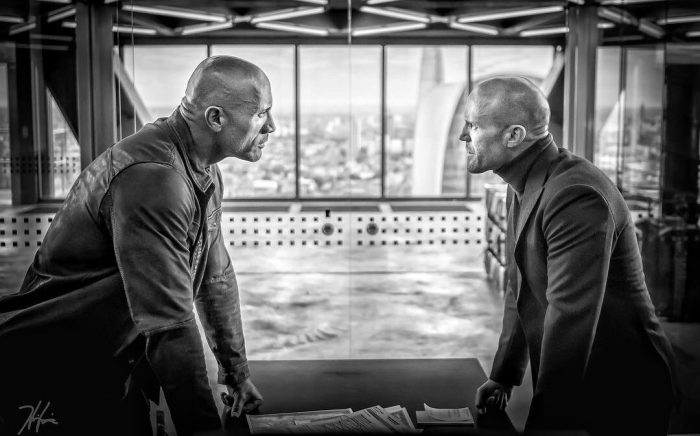 There they are, in all their glaring glory. The Rock uploaded this image to his ever-popular Instagram account, with the following caption:
FIRST LOOK: HOBBS & SHAW.
We either gonna get along or we gonna get it on.
F*** getting along
Great first week of shooting our Fast & Furious spin-off, "HOBBS & SHAW" with my ace @jasonstatham.
We're havin' a blast disrupting the norm to deliver something fresh, cool, fun and bad ass for the fans.
#TheOutlawLawman
#TheInternationalSpy
#HobbsAndShaw SUMMER 2019
"F*** getting along," indeed. Hobbs and Shaw is the first of what is likely to be numerous Fast and Furious spin-offs. The original franchise is poised to end in 2021 with Furious 10, at which point Universal will do everything in its power to keep things moving along. Johnson and Statham starring in their own misadventure will likely yield enjoyable results, but the film is not without controversy. Jason Statham's Deckard Shaw straight-up murdered Sung Kang's Han, one of the original members of the Fast and Furious family. Despite all this, Shaw has more or less been forgiven – at least in terms of the franchise – and now gets to pal around with the Rock. This has lead many to ask: will there ever be Justice for Han?
Maybe. For now, though, we'll have to make due with this film. John Wick, Atomic Blonde and Deadpool 2 director David Leitch is at the helm, which is very promising. Leitch has distinguished himself as one of the best action directors working right now, and he'll no doubt bring his intense style to this movie. Regarding Hobbs and Shaw, the filmmaker said:
"[I]t's actually been really fun starting to press this movie with Dwayne and Jason. I couldn't be happier. I have done quite a few movies with Jason as a second unit director and a choreographer. I know him really well. I think what attracted me to that franchise is they really want to do something different. They understood that I wanted to sort of evolve their world, outside of the Fast world, and give it its own imprint...you're evolving, but you're still being true to the DNA and the core of the characters that people love. I love that challenge, and doing it with Dwayne and Jason is like a dream. Those guys are hardworking, talented actors."
Leitch also added:
"I think it's going to be a little bit more grounded because it's the beginning. It's an origin story, in a sense. It's not an origin story, but we're starting a franchise. So we want it to be a little bit more grounded, a little bit more character-centric. We're going to set up the stakes for these guys and their relationship, but we're also going to have some great set pieces and some action that you'd expect from that type of franchise."
Other cast members besides Johnson and Statham include The Crown and Mission: Impossible – Fallout actress Vanessa Kirby as an MI5 agent who also happens to be Deckard's sister, and Idris Elba, who is playing the film's villain.
Hobbs and Shaw opens September 2, 2019.