'Robin Hood' Trailer: That's Right, There's Yet Another Trailer For This Movie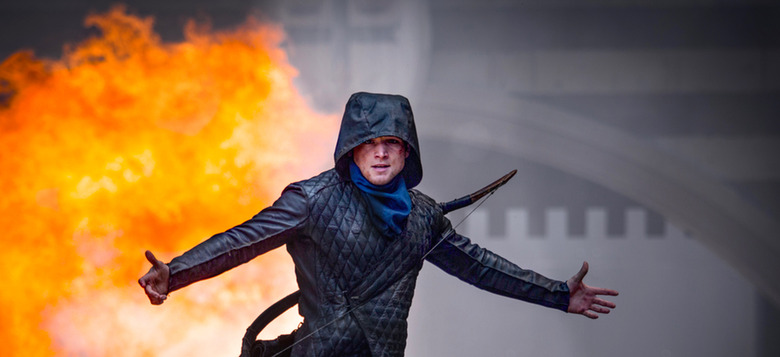 Were you aware that a new Robin Hood movie is on the way? You should be, because there have already been several trailers for the film. And here's another! This latest grafts the story of Robin Hood onto a heist movie narrative, and I guess that's kind of of different? This trailer is the most action-packed yet, and leans heavily into the humor. So if that's what you're looking for, you're in luck. Watch the Robin Hood trailer below.
Robin Hood Trailer
Well, here we are again. A new Robin Hood trailer dropped last week, but I guess one more can't hurt? The character has been brought to the screen again and again, most recently in 2010 with the Russell Crowe Robin Hood (I bet you forgot that already, didn't you?). This latest take on the character looks like it's taking a heist movie approach, with Robin and his men pulling off one big job. There's also some social commentary here as well, with Robin inspiring the masses to rise up against the corrupt Sheriff of Nottingham (played by Hollywood's go-to bad guy Ben Mendelsohn).
There's nothing outwardly bad here, and some of the action looks exciting. Still, the entire movie has a "Oh, this again?" vibe to it. How many more times can the story of Robin and his merry men be told? What more is there to say? He robs from the rich, and gives to the poor. He pisses off the Sheriff of Nottingham. He woos Maid Marion. Lather, rinse, repeat.
At one point, there was a fairly clever Robin Hood script kicking around Hollywood in which it turned out that Robin was actually the Sheriff of Nottingham, who grows dissatisfied with Richard the Lionheart and becomes an outlaw. That sounds different, and could've lent a nice new twist to the legend. This was the film Ridley Scott was going to direct, but the script eventually morphed into the Russell Crowe film with a more traditional story. Yawn.
Robin Hood, starring Taron Egerton as Robin Hood, Ben Mendelsohn as the Sheriff of Nottingham, Jamie Foxx (Baby Driver, Collateral) as Little John. The Knick's Eve Hewson as Maid Marion, and Fifty Shades of Grey's Jamie Dornan as Will Scarlett, opens November 21, 2018.
Robin of Loxley (Taron Egerton) a war-hardened Crusader and his Moorish commander (Jamie Foxx) mount an audacious revolt against the corrupt English crown in a thrilling action-adventure packed with gritty battlefield exploits, mind-blowing fight choreography, and a timeless romance.