'Lilo And Stitch' Live-Action Remake Coming From Disney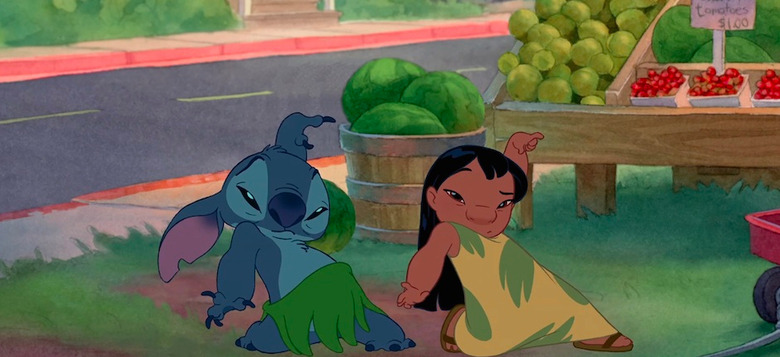 Time for yet another live-action Disney remake. Lilo and Stitch is following in the footsteps of Cinderella, Beauty and the Beast, The Jungle Book and many more as Disney plans to make a live-action remake of the 2002 animated film. Dan Lin and Jonathan Eirich, who are also working on the live-action Aladdin remake, will produce. The Lilo and Stitch live-action remake is said to be a live-action/CG hybrid.
I guess sooner or later, every animated Disney film will have a live-action remake. You hear that, Oliver & Company? Hang in there! The Hollywood Reporter broke the news about the Lilo and Stitch live-action remake, and it's not clear where it's headed – theaters or streaming. That's a key distinction now, because Disney is working on two different kinds of live-action remakes: those destined for the big screen, like Dumbo, Aladdin and The Lion King, and those which will likely debut on their upcoming streaming service, like The Sword in the Stone and Lady and the Tramp. THR simply says the film is "intended for theatrical release or for Disney's streaming service that launches in 2019," so things could go either way here.
The original Lilo and Stitch opened in 2002, and followed a lonely girl who befriends an alien. Here's the trailer.
Lilo and Stitch
And here's the original film's synopsis:
A tale of a young girl's close encounter with the galaxy's most wanted extraterrestrial. Lilo is a lonely Hawaiian girl who adopts a small ugly "dog," whom she names Stitch. Stitch would be the perfect pet if he weren't in reality a genetic experiment who has escaped from an alien planet and crash-landed on Earth. Through her love, faith and unwavering belief in ohana, the Hawaiian concept of family, Lilo helps unlock Stitch's heart and gives him the ability to care for someone else.
I guess this could work in live-action? It would be a bit like E.T., perhaps. Still, Disney's insistence on going through their animated catalogue and rebooting everything is getting a bit tiresome. Do something new! Disney has hired relatively fresh writer Mike Van Waes to pen the Lilo and Stitch script. Van Waes' most notable credit is the upcoming The Crooked Man, another entry in The Conjuring universe, spun-off from The Conjuring 2.  Dan Lin, producer of The LEGO Movie and Jonathan Eirich, producer of Netflix's live-action Death Note, will serve as producers on the project. Lin and Eirich are also handing producing duties on the live-action Aladdin, directed by Guy Ritchie.