'Halloween' Clips Urge Laurie Strode To Confront Her Demons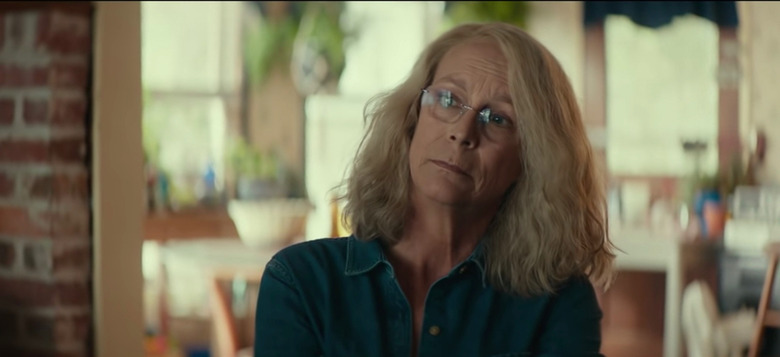 The new Halloween is almost here! But if your anticipation is through the roof, and you impatiently want to see even more footage, these Halloween clips might hold you over. I don't want to tell you to not watch something, and as far as spoilers go, these two clips are very light. But if you want to go into the latest Halloween movie fresh, knowing as little as possible, perhaps you should steer clear and wait it out. If not, watch the new Halloween clips below.
I really hope the new Halloween movie doesn't go overboard with clips. Not for my sake – I've already seen the movie. I just would hate for too much of the film to be spoiled before more people get a chance to experience it. In any case, here are two Halloween clips, should you want to watch them.
Halloween Clip – Laurie Talks to Podcasters 
First up is our modern-day introduction to Laurie Strode (Jamie Lee Curtis). A group of true crime podcasters (don't laugh!) have come across the pond to do a special devoted to Michael Myers, and they also drop by Laurie's fortress-like house for a quick interview. The podcasters are trying to understand why Michael did what he did all those years ago, and Laurie is blunt: there's nothing to understand – Michael is just pure evil.
Halloween Clip – Laurie Talks with Her Granddaughter 
Next: Laurie talks to her granddaughter, Allyson (Andi Matichak). Laurie has become a pariah in her family, alienating her daughter Karen (Judy Greer), Allyson's mother. Allyson is the only family member left who really talks to Laurie, and tries to understand where she's coming from. Here, Allyson urges Laurie to let go of the past, and her obsession with Michael Myers, and move on. Easier said than done.
Again, these clips don't give too much away, but please, powers that be: don't go overboard. The film is almost here, everyone can wait a few more weeks without anymore clips. Now that I said all that, here's a new image from the film. It's slightly more spoiler-y, so beware!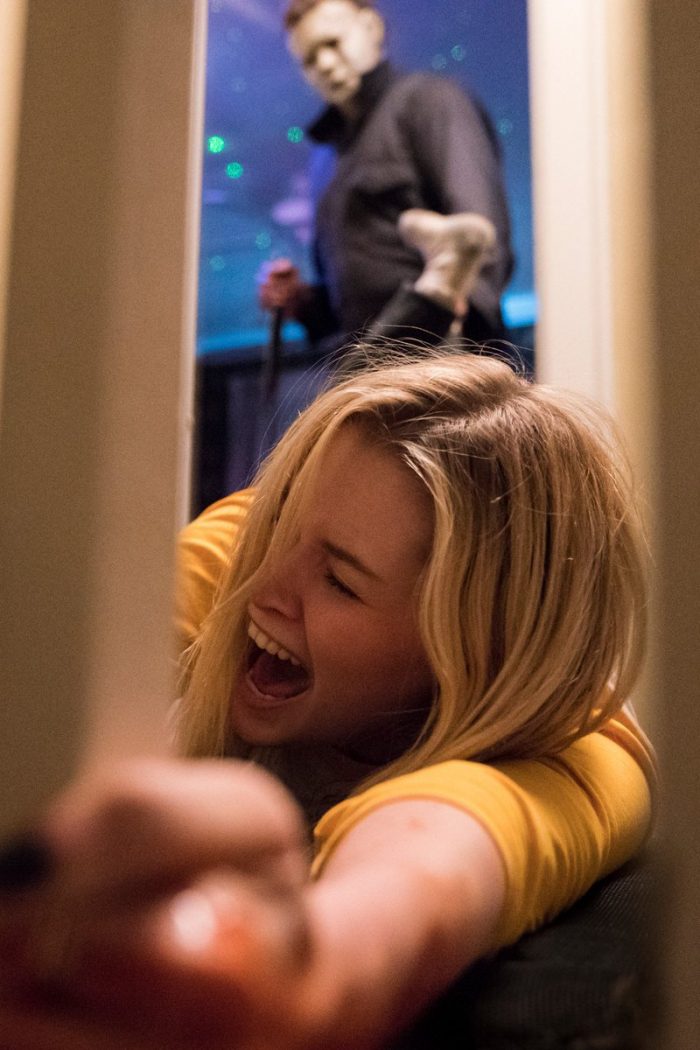 Halloween opens October 19, 2018.
It's been 40 years since Laurie Strode survived a vicious attack from crazed killer Michael Myers on Halloween night. Locked up in an institution, Myers manages to escape when his bus transfer goes horribly wrong. Laurie now faces a terrifying showdown when the masked madman returns to Haddonfield, Ill. — but this time, she's ready for him.