'The Challenger' Casts Michelle Williams As Astronaut Christa McAuliffe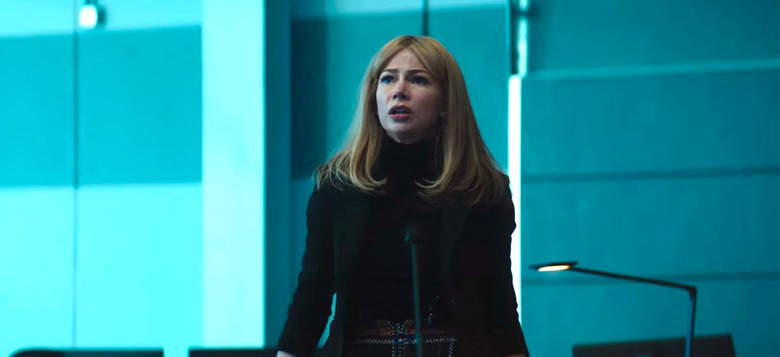 Here's a film that's bound to be a bit depressing. Michelle Williams, who can be seen later this week in Venom, has just landed the role of Christa McAuliffe in The Challenger, a movie based on the 1986 space shuttle disaster that shocked the world. McAuliffe was set to be the first teacher in space, but the shuttle exploded upon takeoff, killing all seven astronauts on board.
Deadline broke the news about Williams joining The Challenger movie. Land of Mine director Martin Zandvliet will helm from a script by Jayson Rothwell. The film will "follow the true story of McAuliffe, a New Hampshire high school teacher who was selected to join NASA's Teacher in Space Project. She eventually became part of the astronaut crew on the Space Shuttle Challenger, which launched from Cape Canaveral on January 28, 1986. The shuttle exploded 73 seconds after takeoff, on live TV, killing all seven aboard."
It's hard to know how to react to this news. Williams is a phenomenal actress, and will no doubt bring her A-game to the part. At the same time, this is an inherently distressing subject. There's no way to sugarcoat this story – Williams' McAuliffe faces a definitive, tragic fate. How do you end a movie like this without leaving everyone in the theater feeling terrible? Of course, there have been plenty of movies focused on national tragedies before. United 93 and World Trade Center both dramatized the 9/11 attacks, for instance. Still, there's something slightly unnerving about all of this.
This won't be the first dramatization based around the Challenger events, though. The 1990 TV movie Challenger featured Raiders of the Lost Ark actress Karen Allen as McAuliffe. The 2013 TV movie The Challenger focused on the aftermath of the disaster, with William Hurt playing theoretical physicist Richard Feynman, who was brought in to help investigate what went wrong with the mission.
The new film will be produced by produced by John and Art Linson and Argent Pictures' Ben Renzo. Renzo released the following statement upon announcement of the project:
"We are more than humbled and extremely grateful for the opportunity to help tell the story of Christa McAuliffe and the Challenger mission...Christa McAuliffe's legacy deserves the strength, courage, experience and humanity that Michelle Williams brings to the role. The entire Argent team is honored and eager to responsibly capture and share the events and personal journeys of those surrounding this important historical moment with audiences around the world to help remember and further appreciate the sacrifices Christa and rest of the Challenger crew made to further our journey into space."
The Challenger will start shooting in May 2019.