'Rambo 5' First Look: John Rambo Is A Cowboy Now, Apparently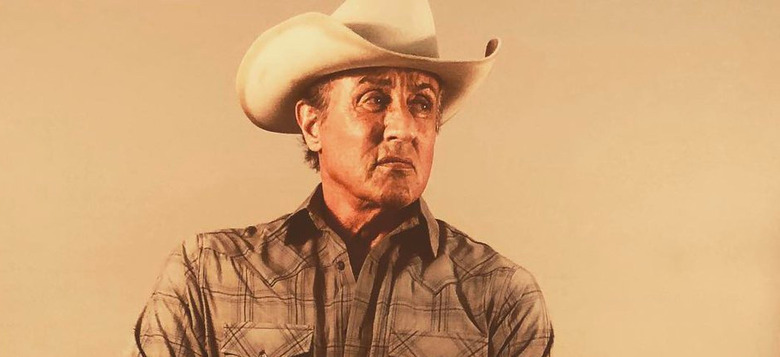 Howdy, partner. Rambo is back, and he's a cowboy now. Rambo 5 is gearing up to start shooting, and star Sylvester Stallone offered up a rather perplexing first look at the film. Saddle up the horses and ride on down to see the Rambo 5 first look below. Yee-haw!
Sylvester Stallone announced via Instagram that Rambo 5 starts filming tonight, which means we now have the first look at Stallone in character as Rambo once again. The results are...surprising.
When I say "Rambo", I'm 100% sure neither of these images are what you picture in your head. In terms of continuity, I suppose this look makes sense. At the end of 2008's ultra-violent Rambo, John Rambo finally returned to America and visited his father's ranch in Arizona. He must have decided to stay there, and is now living the rancher lifestyle, chaps and all. Still, it's a bit jarring for this to be our first look at the new Rambo movie. Perhaps this entry will change course, and be a kind of modern-day Western. That might actually work out well.
At one point, Rambo 5 was going to have John Rambo fighting a monster in the jungle, a la Predator (I'm serious). Sadly, that didn't come to pass. Instead, the film will find Stallone's PTSD-suffering soldier going up against a Mexican drug cartel when the cartel kidnaps the daughter of a friend. That's a premise somewhat similar to John Ford's classic The Searchers, so perhaps Rambo 5 really is going for a Western-vibe. Stallone in a Western isn't a half-bad idea, although I'd be much more interested in him making his own standalone Western rather than grafting Western tropes onto Rambo 5.
I don't know how to feel about this. The Rambo series is a bit of a mess, but I thought 2008's Rambo was fairly decent for what it was, and more or less closed out Rambo's story by bringing him home to America for the first time in years. But Stallone could never let well enough alone. He's a big fan of bringing back his old characters, and now that he's done it so successfully with Rocky in the Creed films, I guess he decided to move on to Rambo. It's only a matter of time before we get Cobra: The Return and Stop or My Mom Will Shoot, Again.
Stallone directed the last film, but Adrian Grunberg is listed as the helmer of Rambo 5. Grunberg also directed Get the Gringo. Rambo 5 will likely arrive sometime in 2019.