John Carpenter Prefers Playing Video Games To Directing, Thank You Very Much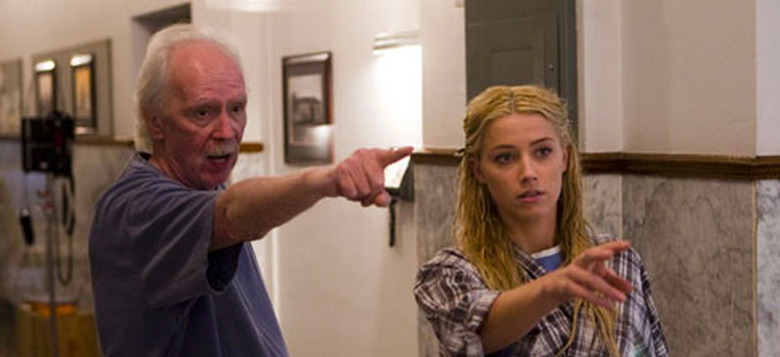 Will John Carpenter ever direct a feature film again? Maybe. What John Carpenter would really like to do, though, is play video games and watch basketball. As great as it would be to have a new Carpenter movie, who are we to deny the legendary filmmaker the simple pleasures he craves? Still, Carpenter says there's always a chance he could do something again. As long as it doesn't conflict with basketball season.
John Carpenter hasn't directed a feature film since 2010's The Ward. He's kept fairly busy, releasing two albums – Lost Themes and Lost Themes II. He also recently recorded the score for the 2018 Halloween sequel/reboot. But what about filmmaking? Will the director behind classics like Halloween, The Thing, Escape From New York, They Live and more, ever get behind the camera to shoot a movie again?
Maybe. In an interview with Entertainment Weekly, Carpenter said: "I would love to direct something, if it's the right thing to do at my age." The director was quick to add: "I'm not going to make another Thing, I'll tell you that. I'm not going to the Arctic again. I'm not going to do that. I want to take it easy. I want to enjoy myself!"
And what type of film would the horror master make? Whatever it is, it sounds as if he'd like to use it as an excuse to take a vacation. "I've wanted to do something in Europe and I've wanted to do something in Venice," Carpenter said. "I haven't gotten a story for it though. What a place! What a strange place! And Venice is sinking! Wow. But I don't know. I'd love to do something in Europe. That would be fun to do."
Carpenter is a distinctly American filmmaker, with virtually all of his movies taking place in the U.S. of A. Which makes the prospect of a European-set Carpenter movie intriguing. It would take him to a brand new territory, and that's exciting. So what's stopping him? The answer is quite simple: he'd much rather chill and take it easy.
"There are two important things in my life," the famous filmmaker says. "Basketball, when the season starts, and video games. And to play video games you have to sit in a chair and not really get up and do anything. I love that. That's my job now, to sit around and do nothing!"
I would love to have at least one more John Carpenter film – especially since I'm not a huge fan of The Ward, and hate the idea of that being the great man's final film. At the same time, Carpenter has already produced a string of fantastic films, films that have stood the test of time and influenced an entire new generation of filmmakers. He's more than earned the right to sit around and do nothing all day, and if that's what makes him happy, more power to him.
In the meantime, we can look forward to the new Halloween on October 19, featuring new music from Carpenter.