'Wheel Of Time' TV Series Moving Forward At Amazon As The Streaming Service Searches For The Next 'Game Of Thrones'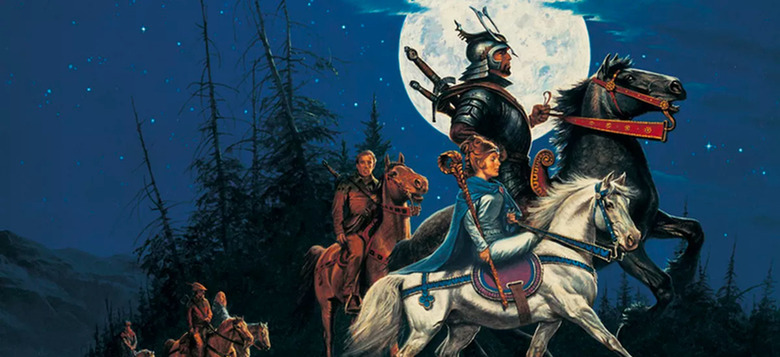 Amazon's never-ending quest for their own Game of Thrones continues. The streaming platform has just given the go-ahead to a Wheel of Time TV series, based on a series of fantasy novels by Robert Jordan. Agents of S.H.I.E.L.D and Chuck writer Rafe Judkins will adapt the books for Amazon.
It's a well-established fact that Amazon really wants their own Game of Thrones. That's part of the reason why they shelled out huge amounts of money to land the rights to that Lord of the Rings TV series. And now they have yet another fantasy epic to work with: The Wheel of Time. Deadline confirms that Amazon has given a full series order to the adaptation, ending a year-long development process. The Wheel of Time series spanned fourteen volumes, a prequel novel and two companion books.
The series is "set in a sprawling, epic world where magic exists, but only women can use it. The story follows Moiraine, a member of the shadowy and influential all-female organization called the 'Aes Sedai' as she embarks on a dangerous, world-spanning journey with five young men and women. Moiraine believes one of them might be the reincarnation of an incredibly powerful individual, whom prophecies say will either save humanity or destroy it."
Per Wikipedia, the "series draws on numerous elements of both European and Asian mythology, most notably the cyclical nature of time found in Buddhism and Hinduism, the metaphysical concepts of balance and duality, and a respect for nature found in Taoism. Additionally, its creation story has similarities to Christianity's "Creator" (Light) and Shai'tan, "The Dark One" (Shaytan is an Arabic word that in religious contexts is used as a name for the Devil). It was also partly inspired by Leo Tolstoy's War and Peace." That certainly sounds like a lot of material to work with, giving Amazon enough ammo to keep the show going for a while (provided it's a hit).
NBC originally purchased the rights to the book series in 1990, with plans of turning it into a miniseries. That never happened, and in 2008, Universal Pictures optioned the books, hoping to turn them into feature films. That, too, never got off the ground. In 2015, however, FXX aired a low-budget TV adaptation called Winter Dragon, based on the book The Eye of the World. It featured Billy Zane!
Winter Dragon 
"The Wheel of Time is endlessly fascinating and resonates hugely with fans as one of the best-selling global properties, and we were drawn to its timely narrative featuring powerful women at the core," said Head of Amazon Studios Jennifer Salke. "We're thrilled to extend our relationship with devotees who've found the book series transformative and welcome new ones by bringing it to life on Prime Video for viewers worldwide."
Writer Rafe Judkins, who will also serve as showrunner, added: "For so many people, including me, this book series has served as a world to escape to, to lose yourself in, to devour and inhabit completely. And I couldn't be more honored to be the one finally bringing that world to life on screen, for old fans to lose themselves in all over again and new fans to discover for the very first time."