'Vice' Trailer: Christian Bale Is Dick Cheney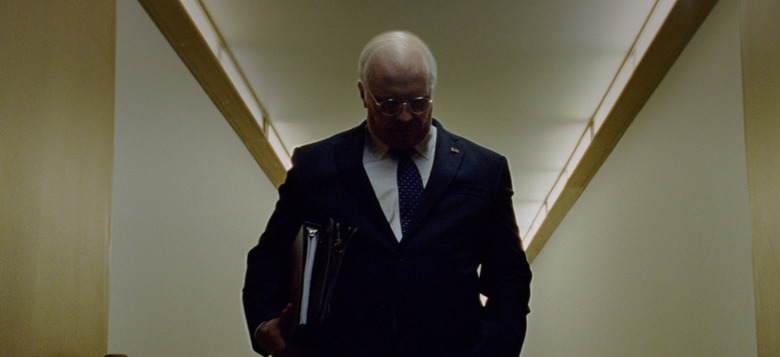 Get ready to see Christian Bale like you've never seen him before: as the 46h Vice President of the United States. Bale plays controversial former VP Dick Cheney in Vice, a new biopic from director Adam McKay. Like he did with The Big Short, McKay has surrounded Bale with a murderers row of excellent actors and decked them out in wigs and other make-up appliances to have them assume the roles of real-life individuals. Watch the Vice trailer below.
Vice Trailer
Dick Cheney was one of the most unusually powerful Vice Presidents in American history, so much so that many theorized he was really running the show while George W. Bush was little more than a figurehead. Controversy swirled around Cheney, casting him as a kind of Darth Vader-like figure of pure menace. Of course, this was back in the days when most Americans thought our political landscape couldn't get any worse. How naive we all were!
Now, Adam McKay will attempt to paint a portrait of Cheney's life with Vice. The filmmaker has put together an impressive cast to pull this off: Christian Bale plays Dick Cheney; Amy Adams takes on the role of Cheney's wife Lynne; Steve Carell is former Secretary of Defense Donald Rumsfeld; Tyler Perry plays former Secretary of State Colin Powell; and Sam Rockwell will portray George W. Bush. Other cast members include Jesse Plemons, Alison Pill, Lily Rabe, Justin Kirk, Lisagay Hamilton, Shea Whigham, Eddie Marsan and Stefania LaVie Owen.
But why make a movie about Dick Cheney now? McKay offered his thoughts on the project to Deadline. "It's a giant chapter in U.S. history," the filmmaker said. "I don't feel like it's ever been fully examined. A lot of crazy stuff happened during those eight years, and this is a vital puzzle piece in what got us to this moment with Donald Trump, with the world, as it is now, and Dick Cheney is at the center of it." McKay added: "The Dick Cheney story is about the effects of power, on a person, on a family. It's just something that we don't talk about enough, the psychological effects of power—of consolidated power, a centralized power, and what does it do to you."
Vice opens everywhere December 25, 2018, so expect to see it in the awards season conversation.
An epic story about how a bureaucratic Washington insider quietly became the most powerful man in the world as Vice President to George W. Bush, reshaping the country and the globe in ways that we still feel today.