'Spider-Man: Into The Spider-Verse' Trailer: More Than One Wears The Mask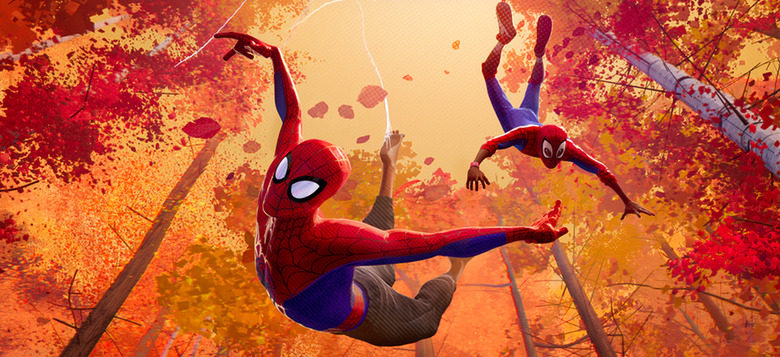 Even if Venom turns out to be a disappointment, we still have Spider-Man: Into the Spider-Verse to look forward to. Everything about this animated take on a world of wall-crawlers looks wonderful, making great use of a unique animation style and introducing audiences to several different Spider-People. The latest Spider-Man: Into the Spider-Verse trailer just swung its way online, and it continues to hint at a potentially great film. Watch the trailer below.
Spider-Man: Into the Spider-Verse Trailer 
What would happen if spider-enhanced superheroes from alternate dimensions were all brought together in one place? The result would be Spider-Man: Into the Spider-Verse, an exciting new take on a familiar character. Anytime a new Spider-Man project is announced, I grow slightly skeptical. The character has been rebooted so many times on screen already that to keep doing it again and again seems silly. But Into the Spider-Verse looks special. It focuses on Miles Morales, a "13-year-old Brooklyn native and a Spider-Man unlike any we've seen before."
Miles isn't the only Spider-Man in the film, though. An older, more exhausted Peter Parker is there as well. And so is Spider-Gwen. And hey, even Spider-Ham shows up. What more do you need? How about Nicolas Cage as Spider-Man Noir, a Spider-Man from the 1930s? "I tried to channel those noir films with [Humphrey] Bogart, and have those kinds of sounds that he might make with [James] Cagney, or Edward G. Robinson, that kind of way of talking," Cage said. "I tried to give the character that. It was a lot of fun. I think it should be quite funny. The movie definitely has a sense of humor, and that's a good thing because it's good for the whole family."
Phil Lord and Chris Miller serve as producers on the film, with Lord penning the screenplay. "This is a new, unique experience, and we are pushing the medium [with 'Into the Spider-Verse']," said Miller, with Lord adding: "We're getting away with so much with this movie...It's a pretty wild style."Into the Spider-Verse features the voice talents of Shameik Moore as Miles Morales; Hailee Steinfeld as Gwen Stacy aka Spider-Gwen; Jake Johnson as Peter Parker; Liev Schreiber as Wilson Fisk, aka the Kingpin; Nicolas Cage as Spider-Man Noir; and of course, John Mulaney as Spider-Ham.Spider-Man: Into the Spider-Verse opens December 14, 2018.
Phil Lord and Christopher Miller, the creative minds behind The Lego Movie and 21 Jump Street, bring their unique talents to a fresh vision of a different Spider-Man Universe, with a groundbreaking visual style that's the first of its kind. Spider-Man: Into the Spider-Verse introduces Brooklyn teen Miles Morales, and the limitless possibilities of the Spider-Verse, where more than one can wear the mask.