'Malevolent' Trailer: Phony Psychics Get More Than They Bargained For In A Real Haunted House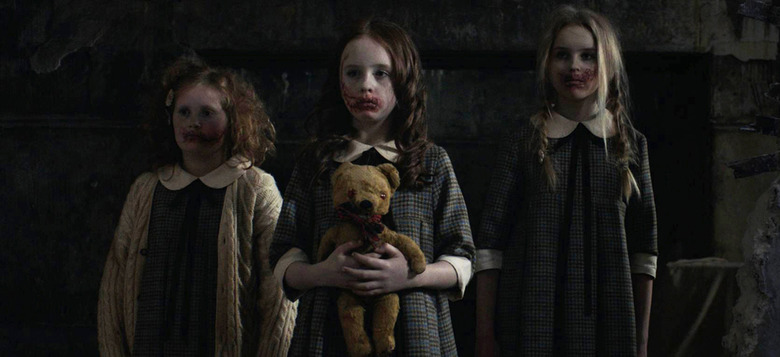 It's officially October, which means it's time to kick-off spooky season, the most wonderful time of the year, and make with the horror movies. Netflix is here to help with Malevolent, a scary-looking haunted house story full of creepy children, moving mannequins and more ghoulish goings-on. Florence Pugh plays a con artist posing as a medium who ends up running afoul of some real pissed-off spirits. What could go wrong? Watch the Malevolent trailer below.
Malevolent Trailer 
In Malevolent, a team of phony psychics like to prey on the grieving by staging paranormal activity. What would happen if these same fakers ran afoul of real ghosts? We're about to find out in this film from director Olaf de Fleur Johannesson and writers Ben Katai and Eva Konstantopoulos.
First impressions: This looks fun! And also a bit derivative! Watching the Malevolent trailer, I couldn't help get the impression that the film was going through a Scary Movie Checklist. Ominous one-word title like Insidious or Sinister (or Hereditary, even)? Check. Flashes of scary children? Check. Crackly, deteriorated audio setting a spooky mood? Check. And yet, despite all these by-the-numbers factors, I'm still sold. I'm a sucker for haunted house movies, and I'll happily buy whatever Netflix is selling here. Here's the synopsis:
Brother and sister team Angela (Florence Pugh) and Jackson (Ben Lloyd-Hughes) are nothing more than scam artists. Preying on the grief stricken and the vulnerable, they convince the bereaved that Angela has the ability to contact the dead. It's a simple con, until Mrs. Green (Celia Imrie) summons the pair to her home — the orphanage that was once stage to a string of murders of young girls — and Angela grows less and less certain of what's actually real. The fake paranormal investigators suffer the ultimate reality check when they are confronted by the true horrors and terrifying past that lie hidden within the haunted orphanage.
Like I said: sold. Not just a haunted house, but a haunted orphanage! That's double-spooky. Plus: Florence Pugh is fast becoming one of those actresses worth seeing in anything, no matter what the film. All that said, I worry this trailer gives way too much away. Practically the whole story is mapped out here. Hopefully there are still some surprises lurking within the movie itself.
Malevolent will give Netflix users the heebie-jeebies this weekend, as it drops onto the streaming service October 5, 2018. Happy spooky season, everyone!