'Bad Boys 3' Is Happening (For Real This Time)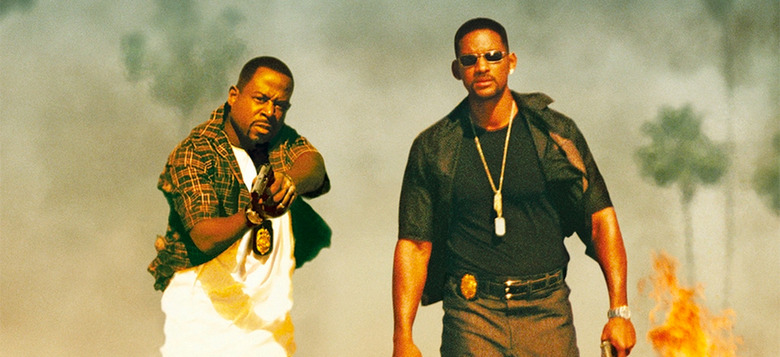 The on-again/off-again Bad Boys 3 is back on again, as Sony just gave the greenlight to the Will Smith/Martin Lawrence sequel. The plan now is to release the film, titled Bad Boys for Life, in 2020. Smith has officially signed on, while Lawrence is still hammering out details of his deal. We've been here before, but for now, let's all assume Bad Boys 3 is on track, shall we?
S*** just got real. Variety has the news regarding Bad Boys 3. This sequel has long been in the works, and at one point, Sony had it on their calendar for a 2019 release. Then they pulled it. "I don't think we're going to get one, not the way everything's turning out," Martin Lawerence said in 2017. "Will is off doing another movie, and I don't think it's going to happen." At one point, Joe Carnahan was set to helm the film, but he walked away. Directors Adil El Arbi and Bilall Fallah were then hired, and rumor had it that Spring Breakers cinematographer Benoit Debie would shoot the film. But still, the future of Bad Boys For Life remained in doubt.
Until now. Variety says "a new draft of a script appears to have met with the producers' approval and it looks as though production on the sequel could begin in early 2019." Chris Bremner is the latest writer to attempt to get the Bad Boys formula right, taking over from previous writers David Guggenheim and Joe Carnahan.
Bad Boys opened in 1995, with Michael Bay at the helm. Smith and Lawrence played two very different Miami detectives – Smith was a ladies man while Lawrence was a family man – who had to masquerade as each other to gain the trust of a witness (Tea Leoni). It was silly as hell, as most Michael Bay movies are, loaded with swirling cameras, slow-motion gun work, and some very un-PC humor. Bay returned to the series with the insanely over-the-top 2003 sequel Bad Boys II, which had a plot so convoluted that it would take a flowchart to explain it all.
In 2008, Bay said he was considering helming a third entry in the franchise, but by 2015, The Grey director Joe Carnahan was attached to helm the film, with a script from Peter Craig. Production was supposed to begin in 2017, but Sony pushed things back. The delay caused Carnahan to leave the project entirely, leaving the fate of Bad Boys For Life up in the air. Adil El Arbi and Bilall Fallah came aboard in 2018, and now here we are again. The Bad Boys 3 cycle is starting up all over again. If all goes according to plan, we'll be seeing Bad Boys For Life on Martin Luther King Jr. weekend in 2020.